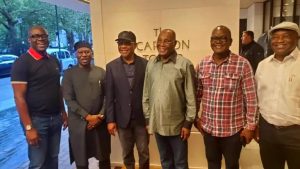 Nigerian Concord Newspaper
Sources at the London meeting between the presidential candidate of All Progressive Congress, Asiwaju Bola Tinubu, and the governor of Rivers state, Nyemson Wike and his team have confided in Nigerian Concord Newspaper that the former PDP presidential aspirant didn't at any point at the meeting agree to work against his party in favour of Tinubu.
This is contrary to a media statement credited to Katsina state governor, Aminu Masari, two days ago where he said that Wike agreed at the London meeting with Tinubu to work against his party in favour of the APC presidential candidate.
Recall that Asiwaju Tinubu met with Wike, Benue state governor, Samuel Ortom, Oyo state governor, Seyi Makinde and others in London early this week but sources at the meeting said there was nothing that the former Lagos State governor said that impressed the Rivers state governor.
Sources also told Nigerian Concord Newspaper that there was nothing which Wike and his team members said at the meeting which suggested that they had agreed to work with Tinubu.
It was gathered that Tinubu truly pleaded with Wike and his counterparts to throw their weights behind him in the forthcoming general elections but the body language of the PDP governors showed that they weren't committed to the APC presidential project even though they are aggrieved with happenings in their own party..
However, a chieftain of the PDP from Lagos State who preferred not to be mentioned told this Newspaper that there was nothing wrong if Tinubu invited those he considered as his destiny helpers within the PDP for a meeting since they are all Nigerians but stressed that the only thing that should be condemned is the lie told by Masari that the aggrieved PDP governors had signed a pact with Tinubu to back his presidential ambition.
The PDP chieftain said: "Tinubu has the right to meet them (Wike, Ortom and co) just like Obi used Obasanjo to meet them in London too but Tinubu should stop misleading the society that they are now working with him. This is the same way he (Tinubu) lied that Baba Obasanjo had endorsed him after he went to meet him last week.
"That lie from Tinubu caused serious issues for Obasanjo until the former president issued a press release personally that he didn't discuss anything politics or Tinubu's presidential ambition with the former Lagos State governor.
"The fact is that these governors didn't travel to London on the invitation of Tinubu, Obi or Obasanjo or even Atiku. They went the same way they have been traveling out of the country for their strategic meetings even before the June, 2022 national convention in Abuja.
"Just because our governors who went to London for their normal meeting as Wike's team members deemed it fit to honour Tinubu's invitation to a meeting with him, he is now using the opportunity to mislead Nigerians through Masari that the PDP governors had agreed to work with him.
"Didn't Obi meet with Wike and his counterparts. Does that mean that they had also signed a pact to work with the Labour Party candidate too? Wike, according to what we heard didn't give Tinubu any guarantee to work with him. Rather, he (Wike) agreed to work with Atiku once his conditions are met and our candidate has agreed at the meeting on Wednesday that he will meet all the conditions so peace can return to the party"