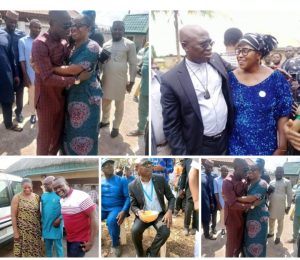 By Aare Abiodun, De Oracular Oracle
Before we go into this, the public should be aware that the embattled governorship of the Benue State chapter of the All Progressive Congress, Reverend Father Alia, is doing contrary to the Nigeria's Electoral Acts.
Alia has been using religion to campaign and that is against what the Electoral Acts say. Soon, a serious court case will begin on that.
For the sake of informing the public, the ministry for special duties and intergovernmental affairs recently applied for the sum of N25M million from the federal government to enable her minister, Senator George Akume, travel for a medical treatment in Germany.
The money , N25m, was approved by the federal ministry of finance and Akume was able to travel to Germany where he received medical attention. Congrats for good health sir.
For me, I think the N25m should not have been applied for and wasted on a foreign medical trip when Senator George Akume has a governorship candidate, Reverend Father Alia, who claims to have the power to heal all sicknesses just like Jesus Christ did in those days.
Recall that Alia had been seen in several videos where he said that he had the power of healing like Jesus Christ and that he will heal all the diseases that Benue state has if he becomes governor.
Why did Alia fail to heal his benefactor, a man that made it possible for him to emerge as governorship candidate through the back door? If Alia could fail Akume by not healing him when he was sick, then he is an ingrate and 'Leader' should deal with him immediately. The N25m too should be returned.
Our dear mummy, Her Excellency Regina Akume, was also one of those that have helped Alia in his lifetime. Mummy made sure that he emerged even though the candidacy will soon be truncated by a competent court but recently Alia failed her by not using the healing power he claimed he has to heal her. Mummy had to visit a hospital before she could regain her good health and Alia whom she helped very well to emerge as APC governorship candidate has a power to heal. Alia is nothing but a fraudster and a fake man of God.
This is a man who his own Bishop refused to ordained just because he was seen as fake. A fake man that has already spoilt his name all in the name of performing miracles through the power of healing.
The public should be aware that it was Bishop Usuh that was begged to ordain Alia when he was seen unfit to be a priest of the catholic church. Bishop Usuh was indeed right and those that begged the bishop have brought a devil faking as a priest.
Don't forget that the same Alia has been promoting Muslim-Muslim ticket just to show his desperation to be governor of Benue state. A self-acclaimed Catholic Father that is supporting a Muslim-muslim ticket? Too bad..
The public may have forgotten that Alia recently met with the governor of Kaduna state, Mallam Nasir El-Rufai, whom he told that fulani herders will be allowed free access to Benue's territory if they can all support him to emerge governor next year.
Nigerian Concord Newspaper's team that is searching for the list truth in Benue won't stop until we all know the truth.
I am Aare Abiodun Oluwarotimi, De Oracular Oracle that eats jollof rice in the shrine.