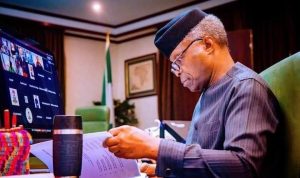 Nigerian Concord Newspaper
Facts have emerged on why the name of vice president Yemi Osinbajo was not included in the national campaign council of Tinubu/Shettima for the 2023 general elections.
A source at the Presidency told Nigerian Concord Newspaper that an invitation was extended to Osinbajo to play a critical role in the Campaign Council but the vice president rejected the offer, saying that he would not be part of an agenda that deprives christians of their rights.
According to investigation, Osinbajo had made it clear since three weeks ago that as a Redeemed Church pastor, he would not want to be part of Tinubu/Shettima Campaign Council since it is against the interest of Christians.
Osinbajo was quoted to have said when he was approached to be in the campaign council that it was wrong for Tinubu, a Muslim to still go ahead and pick a muslim vice who is also known for sponsoring terrorists while he was governor Borno state.
More details shortly.