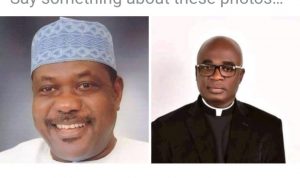 Nigerian Concord Newspaper
For agreeing to be the coordinator of Tinubu/Shettima campaigns which has been tagged a a Muslim-muslim ticket in Benue state, the embattled governorship candidate of the All Progressive Congress in the state, Reverend Father Hyacinth Alia, has been asked to stop parading himself as a Catholic priest.
Apart from Alia, the minister for special duties and intergovernmental affairs, Senator George Akume as well as his wife who is the House of Representatives candidate for Gboko/Tarkaa federal Constituency, Mrs Regina Akume have also been asked to stop parading themselves as Catholic Knights for making mockery of the entire christian society in country by accepting to serve in a campaign team that is promoting Muslim-Muslim agenda that is against the interest of christians in the country.
This is just as Vice President Yemi Osinbajo has received praises for refusing to be part of the Muslim-muslim agenda.
According to investigation, Osinbajo had made it clear that as a Redeemed Church pastor, he would not want to be part of Tinubu/Shettima Campaign Council since it is against the interest of Christians.
Osinbajo was quoted to have said when he was approached to be in the campaign council that it was wrong for Tinubu, a Muslim to still go ahead and pick a muslim vice who is also known for sponsoring terrorists while he was governor Borno state.
Recall that news broke out last night that Reverend Father Alia who was suspended for partaking in active politics had been appointed to coordinate the Muslim-muslim agenda of Bola Ahmed Tinubu in Benue state.
Negative reactions have trailed the announcement of Alia , a Catholic priest as the one to coordinate an agenda which many believe is to hurt christians and make mockery of Christianity in the country.
Meanwhile, some top leaders of the Benue state chapter of the Christian Association of Nigeria, CAN, have called on the Catholic Bishop of Gboko Diocese, William Avenya, to immediately disrobe Father Hyacinth Alia so he can stop parading himself as a Catholic priest.
They also want Avenya to challenge Akume, a Catholic Knight, who is helping the APC to promote Muslim-muslim agenda that is aimed at silencing christians in the country.
The leaders who said they were speaking the mind of the Chairman of CAN in the state even though they don't want to be mentioned for safety purpose said that Alia has sold his soul to the devil the day he decided to mock the Catholic faith by involving himself in active politics.
According to them Benue CAN chairman, Rev. Akpen Leva who they said will soon make an official statement to condemn Alia's appointment to coordinate Muslim agenda for Tinubu and Shettima in Benue state is very disappointed that the suspended priest is now working together with those that sponsor Fulani killings in the state.
They wonder why Alia would rub the white cloth of christians in Nigeria in the mud by accepting to be an agent of those that are promoting killings in the country. "Alia is a disgrace to the Catholic and the entire christians in Nigeria" one of them fumed.
They however lauded Osinbajo for not being part of the Campaign Council that is aimed at promoting Islam at the detriment of christians in Nigeria.
"That name Shettima is enough for Alia to reject the offer. We are all aware how Shettima as governor of Borno state was sponsoring members of the Boko Haram Sect in the country just to spoil the administration of the then president, Dr. Goodluck Jonathan.
"Is Benue going to be safe under Alia as governor now that he has started receiving financial supports from Muslim governors and Boko Haram financiers. Are we going be safe with his involvement with those that are promoting the killings of our innocent people" one of the CAN elders asked.
The elder noted that rumour that Alia has signed a pact with Miyyeti Allah association to cede Benue land to them if they make him governor is something that the public should believe and take very seriously.