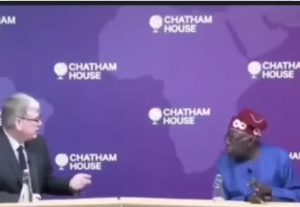 By Aare Abiodun, Reporting for Nigerian Concord Newspaper
Skit maker, Debo Adedayo also known as Mr. Macaroni has mocked the presidential candidate of the All Progressive Congress, Bola Ahmed Tinubu over his failure to answer questions that he was asked at a live meeting at Chatham House in London during the week.
Tinunu who has always shunned media interviews and town hall meetings with other presidential candidates since he picked the APC tickets had arranged a meeting at Chatham House during his visit to London but failed to answer any of the questions he was asked by the interviewer.
However, Tinubu who apparently didn't have ideas of Nigeria's security, economic, health and education situations directed all the questions to members of his entourage for them to answer the interviewer.
While asked what he would do as president on the issue of Nigeria/UK defence partnership, Tinubu who had ruled Lagos state for eight years as governor and Chief Defence Officer showed that he had no answer to the question but refered it to the APC national woman leader to answer.
Tinubu who felt uncomfortable with the APC national woman leader's response to the question also called on the Speaker of the House of Representatives, Femi Gbajabiamila to respond to the question posed by the interviewer on Nigeria/UK Defence Pact.
According to Tinubu, redirecting the questions to members of his entourage to answer was a way to prove that his team was very ready to solve Nigeria's problems but feelers have it that the former Lagos state governor lacked knowledge about everything he was being asked during the Chatham House meeting.
Feelers also have it that Tinubu's lack of knowledge about Nigeria's security and economic situations is a reason he has been avoiding live interviews and town hall meetings in Nigeria since he became the APC presidential candidate.