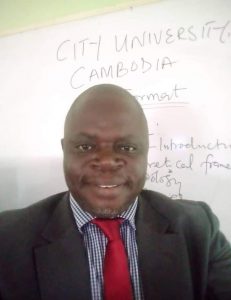 By Aare Abiodun Oluwarotimi, Reporting for Nigerian Concord
An Akure-born scholar, Kehinde Omoniyi has lauded former People's Democratic Party candidate for Akure Federal Constituency, Barrister Sylvester Olumuyiwa Adu, over his outing in a recent live interview on Alalaye Radio
In his media note, a copy which was obtained by Nigerian Concord Newspaper, Kehinde Omoniyi, a Ph.D student of Policy & Strategic Studies said that Barrister Adu proves to be an intellectual power house by his surgical analysis of all the questions during the Radio interview.
"At all times, leadership requires competence, education, self development, intelligence, kindness, a great deal of experience, discipline among other virtues, and Barrister Adu has displayed this severally" Omoniyi noted
The scholar, a former Legislative Assistant to the late Rt Honourable Adedayo Omolafe Expensive stressed that the former PDP candidate has a sound understanding of the situation at hand vis -a- vis the challenges as a country at the present crossroads of confusion, insecurity, poverty, despair, economic doldrums & socio-political dislocation.
Omoniyi further writes: "According to Barrister Adu, "we found ourselves in this pathetic situation because, as it stands, our society promotes mediocrity, incompetence, greed, selfishness, lack of patriotism, lack of visions, culture of corruption, avarice, nepotism, religiosity, tribalism, hate, insatiable appetite for power & positions"
"One can't but marvel at his (Adu) mastery in proffering solutions to all these hydra- headed anomalies if Nigerians wish to get out of the prevailing hardship & directionlessness" he also said.
"Listed among the prescribed panacea are: Restructuring of the present imbalances & lopsided geographical configuration, devolution of powers of governors and president, entrenchment of meritocracy, proper strategic, tactical & operational planning with correct & adequate data, Justice & fairness, love & selflessness.
"This showcases the multi- talents of Barrister Olumuyiwa Adu- the humanitarian whose hands are into many productive & impressive pies.
"This interview should be a blueprint for sustainable development for a country that is bedeviled with corrupt, myopic & incompetent Leadership that is always strongly supported by docile populace" Omoniyi concluded.