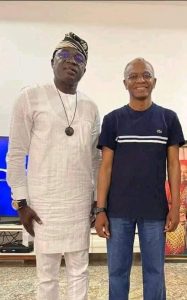 Nigerian Concord Newspaper
…Regina Akume says Alia is an ingrate
…Presidency accuses Akume of sabotage
…Alia fumes, says I regret knowing Akume
Nigerian Concord Newspaper can authoritatively report a serious cold war between the leader of All Progressives Congress, APC in Benue State, Senator George Akume and the disputed governorship candidate of the party in the state, Hyacinth Alia over N500 million donation from the Governor of Kaduna State, Nasir El-Rufai and his Katsina State counterpart, Aminu Bello Masari.
The N500m donation was meant to support Alia to fight his election cases in court with Barnabas Gemade, Michael Kaase Aondoakaa, Terhemba Shija and others.
Recall that Gemade, Aondoakaa and Shija had approached the court to seek for justice over the way Alia was imposed on the party as a governorship candidate through a primary election which the party's appeal panel described as "Yahoo yahoo primary"
Alia, a suspended priest had recently visited the two northern governors to solicit their financial support to enable him cope with the many court cases against him. El-Rufai and Masari agreed to assist him, a source who is in the know told this Newspaper.
The source continued: "The Kaduna and Katsina governors raised the sum of N500 million between them to support Alia but before releasing the money, they decided to put a call across to our leader whom they are more familiar with, to let him know about their kind gesture. Akume asked Masari and El-Rufai to send the money to him directly with a promise to hand the funds over to Alia"
Nigerian Concord Newspaper gathered that Masari and El-Rufai released the said N500 million to Akume.
"Many days passed, running into weeks but Masari and El-Rufai did not get even a message from Alia acknowledging receipt of the money. The two governors decided to call Alia to find out what happened. They were shocked when he claimed not to be aware of the funds.
"The next day, Akume got a call from the Presidential Villa asking him why he was working against the interest of APC in Benue State. The caller made reference to the N500 million from El-Rufai and Masari which Akume was reported to have diverted into his private pocket despite knowing that the money was meant for funding of the court cases against the party. The caller made Akume understand that Alia was earlier contacted but he denied receiving the money.
"Akume felt very embarrassed that Alia did not protect his image. He expected Alia to have protected him by pretending that he was in possession of the funds, or at least he should have said something to save his name.
"What followed was a hot call from the wife of Akume, Madam Regina who blasted the hell out of Alia accusing him of betraying them. She accused Alia of reporting his husband to Aso Villa.
"Regina asked Alia what his contribution was when she and her husband borrowed the money to sponsor his governorship campaign and successfully imposed him as APC candidate. She expressed disappointment in the suspended priest, telling him that he had not even won election and was already showing his true colours" the source, a member of Father Alia's media team said in anger.
Feeling the heat of embarrassment, this Newspaper learnt that Akume instructed elders Jack Gyado and Simon Shango to send lawyers to appear in one of the court cases and represent Alia and APC so he would justify the expenditure of the funds from El-Rufai and Masari, and also save his image.
It was gathered that the lawyers on arriving the court were rejected by Alia who said that his lawyers were on their way to continue with the case.
Sources close to Alia say he is now regretting why he accepted Akume's offer to make him the candidate of APC. He confided in a close associate that he was warned about Akume, and if only he had listened, he wouldn't be in the mess that he is in now.