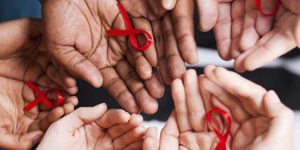 By Akinola Adeniyi Patrick, Lagos
The Director-General of Nigeria's National Agency for the Control of AIDS (NACA), Gambo Aliyu, on Thursday said available data confirmed a decline in new HIV infections in the country.
Mr Aliyu, while speaking at a press conference ahead of the 2022 World AIDS Day (WAD), said new HIV infections gradually declined from 103,404 in 2019 to 92,323 in 2021.
He said this is an indication that Nigeria will meet the United Nations' target of ending HIV/AIDS by 2030.
He said the global theme for the 2022 WAD is "equalise" and the national theme is "Equalise to end AIDS: Equal Access to Treatment and Prevention Services".
WAD is commemorated on 1 December annually to raise awareness of the HIV/AIDS epidemic and mourn those who have died of the disease.
Mr Aliyu noted that more persons have commenced treatment for HIV.
He said as of the end of September, 1,619,133 persons are on treatment in the country, which he noted represents a significant leap when compared to 838,020 persons that were on HIV treatment in 2017.
He said there is also significant growth in key population treatment centres with 10 in 2017 with a coverage of 16,147 to 118 in 2021 with coverage of over 221,010.