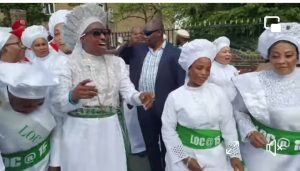 Nigerian Concord Newspaper
"In righteousness shalt thou be established: thou shalt be far from oppression; for thou shalt not fear: and from terror; for it shall not come near thee. Behold, they shall surely gather together, but not by me: whosoever shall gather together against thee shall fall for thy sake." Isaiah 54:14-15
An enemy is an opponent (challenger, antagonist), an adversary (opposition), a Foe or a Rival (contender, competitor).So anything that suits these words is an enemy. Failure is an enemy, sin is an enemy, worry is an enemy, devil is the biggest enemy, anything that opposes, challenges, competes against you is an enemy.
You have more enemies than you think my friend but they shall fall. Unfruitful is an enemy, poverty, sickness, stagnancy , unproductive is an enemy because all these opposes the enjoyment, purposes and true meaning of life. All these enemies of life shall fall.
They however gather together against you, but not with God neither with God's will or consent. They will not gather in success they shall fall. They shall definitely fall for your sake. They cannot overcome you. You are special.
Rev. Mother Esther Abimbola Ajayi is the Founder of the Love of Christ Generation Church C&S (Worldwide)