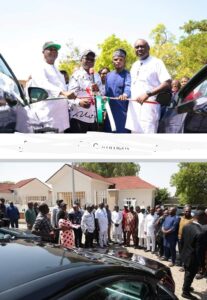 Nigerian Concord Newspaper
Benue State Governor, Samuel Ortom has presented official vehicles to the 23 Legislative Leaders of Local Government Councils in the state.
The Governor who performed the ceremony Wednesday, November 30th, 2022 at Aper Aku Lodge at Benue Peoples House, Makurdi, said the vehicles were meant to facilitate the operations of the Leaders.
According to the Governor, the vehicles were the first batch of supply for the leaders, stating that the second batch being expected will be for the Deputy Chairmen of the Local Government Councils.
Governor Ortom explained, "We felt that since Leaders are a different arm of the Government and the operations of the Deputy Chairmen are on the same ticket with the Chairmen, we decided that since the Chairmen have had their vehicles, the Leaders should also have theirs so that there will be a seamless operation."
He charged the Leaders to use the vehicles judiciously for the purpose they were meant, stating that they will retain ownership of them at the expiration of their tenure as it has been the policy of his administration.
The Governor particularly reminded the Leaders that the vehicles were
meant for the office of the Leader, emphasising that "if you work with your people well and if they don't remove you, you will go with the vehicle after your tenure. But if you don't treat them well and they remove you, you will hand over to the next Leader," he stated.
While commending the Leaders for their patience, Governor Ortom stated that, "I want to congratulate you and I believe that moving forward, your operations will be better," adding that the delay in procurement of the vehicles was as result of the dire economic situation in the country.
Earlier, Special Adviser to the Governor on Local Government and Chieftaincy Affairs, Barrister Kenneth Achabo said the procurement of vehicles was "in fulfillment of Governor Ortom's policy, to provide vehicles for government functionaries to enhance service delivery".
In a response on behalf of his colleagues, Leader of the Council's Legislative Leaders in the state, Hon Matthew Ede representing Okpokolo Council Ward in Oju Local Government expressed appreciation to Governor Ortom for providing the vehicles despite the economic downturn, stating that it was an incentive for their performance.
He assured that they will use the vehicles to facilitate their legislative activities and to also promote good governance in Benue State, stressing that the governor's decision will always be a guide to their direction.