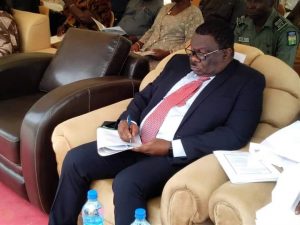 Nigerian Concord Newspaper
.
Former Attorney General of the Federal and Minister of Justice, Chief Michael Kaase Aondoakaa SAN says he will approach the Appeal Court against the judgement in the case between him and the embattled governorship candidate of the APC in Benue state, Reverend Hyacinth Alia.
Recall that Justice R.A Muhammed was to deliver his judgment in the case on the 17th of November but could not deliver the Judgment on the grounds that it was not ready.
According to our reporter who was also in the court this morning when the case came up for judgment, the business of the court commenced by 9am ,however the court Registrar informed the parties that judgement will be ready by 12noon.The trial judge did not sit until the 2pm when the Judge delivered judgment striking out case that Aondoakaa filed his case out of time..The Judge further held that it was otiose (a waste of time) to consider the case on its merit
However, Aondoakaa has instructed his t lawyers to
to file an appeal against Judgment of the trial court for being a miscarriage of Justice .
According to Aondoakaa ,he will pursue the case to the highest court to secure justice for himself and the good people of Benue state.
Aondoakaa also advised his teaming supporters to peaceful and clam . He further urged his supporters to continue to have hope in the judiciary as he will use legal means to upturn the trial judgment
More details shortly