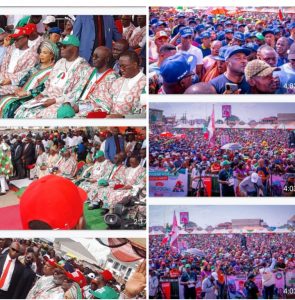 By Aare Abiodun Oluwarotimi
The presidential candidate of the People's Democratic Party, Alhaji Abubakar Atiku said that he will curb herders/farmers clashes which had resulted to the killings of thousands of innocent souls immediately he assumes duties as president in 2023.
Alhaji Abubakar Atiku who made this promise yesterday while addressing a mammoth crowd which gathered together at MKO Abiola Democracy Park in Akure to grace the flag-off of his campaigns in Ondo state also made it known that he had set aside a whooping $10b to empower Nigeria's youth and women..
In his speech, the candidate appreciated the fact that Ondo state gave him the highest votes in the Southwest in 2019, urging them to do more in 2023 so that he can eliminate insecurity and as well make all the federal roads linking the state with other parts of the country motorable within a shirt period of time.
On youths and women empowerment, he said that it breaks his heart each time he sees youths and women that should be gainfully or self employed roam around without doing anything tangible.
Atiku promised that education will be given a serious consideration since it had been his idea from day one that every child in Nigeria must be educated.
Begging Ondo state people not to allow APC to repeat their failure in governance, the candidate said they should compare what PDP was able to do in sixteen years and what APC did within eight years.
***Ondo people will vote for Atiku, says Jegede
The vice chairman of the PCC in Ondo state who is also a member of the PCC in Abuja, Balogun Eyitayo Jegede SAN assured the party that the people of Ondo state are tired of the APC misrule, stressing that they are going to vote for Alhaji Abubakar Atiku at the poll.
Eyitayo Jegede said that the people of the state have seen the difference between APC and PDP and that they will vote massively for Atiku so as to get their freedom from high cost of fuel price, hunger, bad roads, insecurity and bad governance.
According to Jegede, it's only Atiku that can change the narrative in the country being an experienced leader who helped Obasanjo to develop brilliant Nigerians that helped his administration between 1999 and 2007.
*** Atiku is a civilized Fulani man- Titi Atiku
Addressing the mammoth crowd yesterday, wife of the candidate, Hajia Titilayo Atiku said that her husband is a civilized Fulani man who will not allow Fulani herders to kill anyone in Nigeria all in the name of grazing.
Hajia Titi Atiku said that her husband will stop all the killings that are happening under the government of the APC in the country.
She also promised that Atiku had been trained to understand the culture of Yoruba and he will make sure that the Southwest isn't marginalized just like the APC is presently doing.
Hajia Atiku also promised that she will use her initiative to develop women, young girls and youths more she did and the wife of vice president once her husband assumes duties as president of Nigeria.
***Nigeria needs an experienced man like Atiku- Iyorchia Ayu
In his own speech, national chairman of PDP, Dr. Iyorchia Ayu said that Nigeria needs an experienced man like Abubakar Atiku to be president at this critical time.
Ayu said Nigeria has gone very bad in the hands of the APC and it's only Atiku who had experienced leadership at the Presidency that can rescue and rebuild the nation.
He added that Atiku will identify talents that will help him restructure the country just like he did to help Obasanjo between 1999 and 2007.
Ayu however promised that Atiku won't allow APC rig the next governorship election in Ondo state like they did in recent times.
***Only Atiku can restructure Nigeria- Tambuwal
Governor of Sokoto state and DG of Atiku/Okowa campaigns council, Alhaji Aminu Tambuwal said they Nigeria can only be restructured by Atiku Abubakar.
He said that Buhari and his cohorts have ruined Nigeria to the extents that an experienced man is needed to restructure it.
Tambuwal said Nigerians should use their votes to get freedom from hunger and poor governance of the APC.
**With Atiku, Nigeria will experience great transformation- Gov. Adeke
The governor of Osun state, Ademola Adeleke said that Nigeria will experience a great transformation if Atiku is elected as president in 2023.
According to him while speaking at the flag-off, Nigerians should vote for Atiku, a man who can stand by his words at any time.
Governor Adeleke said that the light that entered Osun state with him as governor is about to shine across Nigeria with Atiku as president in 2023.
***Atiku, the best man for the job- Arc. Yemisi Suswam
Wife of the former governor of Benue state, Arc. Yemisi Dooshima Suswam PhD in her speech stated that Atiku is the best man for the job owing to his wealth of experience as former vice president and chairman of the economic team of Obasanjo administration.
Yemisi Suswam, wife of the Chairman, Senate Committee on Power urged the people of Ondo state to consider the way Atiku helped Obasanjo to succeed during his reign between 1999 and 2007, adding that such man should be trusted to pilot the affairs of the country in 2023.
She berated the level of hunger, insecurity, poor governance and bad roads in the country, urging the voters in Ondo state to get their PVCs to vote out the APC's government of oppression.
***Atiku understands how to solve Nigeria's problems- Oyinlola
Speaking, former governor of Osun state, Prince Olagunsoye Oyinlola said that Nigeria will be great under Atiku as president because he understands how to solve all the problems that the country is facing today.
He added that Atiku will succeed as president because he had worked successfully as vice president under Olusegun Obasanjo.
He then pleaded that the people of Ondo state should join hands together to elect Atiku/Okowa so as to return good governance back to the country.
***Atiku will help Yoruba states- Dino Melaye
Speaking, a former senator in Kogi state, Dino Melaye said Atiku is a refined Fulani man that will develop the Southwest.
He added that Atiku will not marginalize the Southwest the way the APC-led federal government has neglected the zone in the last seven years.
Berating the poor state of the national as caused by the APC-led federal government, Melaye begged the people of Ondo state to see it as a reason they should support Atiku as the next president of Nigeria.
***Ondo people won't forsake Atiku- Eddy Olafeso
DG of PCC in Ondo state, Dr. Eddy Olafeso said that the people of Ondo state won't forsake Atiku- now that they have suffered a lot in the hands of APC both in the state and at the Federal level.
He promised that the people of the state will give more votes to Atiku than they did in 2019.
***Atiku is a refined Fulani like Yar'Adua, Shagari- Clement Faboyede
Speaking at the flag-off, former chairman of the party in Ondo state, Clement Faboyede described Atiku as a refined Fulani man like Umaru Yar'Adua and Shehu Shagari who made the development and greatness of this country their top priority while they were president.
Faboyede said Atiku is a unifier who can bring Nigeria back to its glorious place in the world. He noted that Atiku is the only candidate that has the experience of good governance.
***Atiku is God sent- Ologunagba
The National Publicity Secretary of the party, Hon. Debo Ologunagba said Atiku is God sent and only him can deliver Nigeria from slavery.
Ologunagba urged Ondo state voters to come out in their millions and give a good number of votes to the candidate in 2023.
****Atiku is a good luck for Nigerians- Peter Fatomilola
Meanwhile, Nollywood actor, Dr. Peter Fatomilola said that having Atiku as president is a good luck for Nigeria, considering his wealth of experience.
He added that Atiku has come to rescue Nigeria from the disaster of the APC under Muhammadu Buhari.
Meanwhile, the state chairman of the PDP, Alhaji Fatai Adams in his welcome speech promised that the entire PDP members in the state will work together as one to deliver the state to Atiku Abubakar in the general elections.