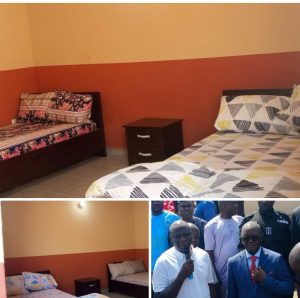 Nigerian Concord Newspaper
Benue State Governor, Samuel Ortom has commended the management of Lobi Stars Football Club of Makurdi for prudent use of meagre resources allocated to the club.
He particularly thanked the clubs chairman and Deputy Governor of Benue State, Engr Benson Abounu and the Vice Chairman and CEO of the Club, Dominic Iorfa for the good works he has done both for the development of the players and management of the team since assumption of office.
Recall that Iorfa on assuming duties had frowned at the high spending on accommodation for players when they play home matches in Makurdi.
With this project, Iorfa has saved the government from wasting over N60m on accommodation while playing at home in every season.
Finding showed that over N60m was spent on accommodation when Lobi Star played home matches in the last season.
Within six months that he assumed duties, Iorfa was able to clear the huge debts incurred through accommodations and put up the structures at McCarthy stadium to save cost on accommodation.
Meanwhile, Governor Samuel Ortom gave his commendation about Abounu and Iorfa today, Monday after he inspected renovation work on McCarthy Stadium, Makurdi, Benue State.
"I cannot remember having a budget presented to me to put this facility where it is today but out of the meager resources, the chairman and the vice Chairman have been able to put this in place. It means when you give them resources, they will do better," the Governor said.
While commending the Chairman and the Vice Chairman for the good work done, he called on other appointees to be creative in handling responsibilities assigned to them.
The Governor immediately directed that a budget be presented to him for the completion of the remaining part of the project renovation.
On his part, Mr. Iorfa thanked the Governor for his support to the growth of the club assuring him of the club's readiness to perform better in this season.
He also thanked the deputy Governor and Chairman of the club, Engr. Benson Abounu for his continuous support.
While fielding questions from newsmen, Mr. Iorfa listed some of the facilities renovated and procured to include a 22 room apartments with beds and mattresses, a Canteen, a Mikano XP 27 P1 generator for power supply, a Standard pitch, a motorize borehole for steady water supply, a match accessing room, among others.
He said, he saw the need to renovate the structure which according to him has been abandoned for years inorder to save cost as well as give the players good accommodation to enhance their performance.