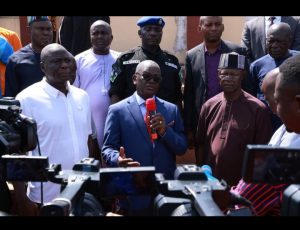 Nigerian Concord Newspaper
Benue State Governor, Samuel Ortom has directed the management of Lobi Stars Football Club to present a budget for the comprehensive renovation of McCarthy Stadium, Makurdi.
Governor Ortom gave the directive Monday, October 31st, 2022 after inspecting the renovation work carried out at the Stadium by the Club's management.
The Governor who was conducted round the sports facility by the Deputy Governor who is the Club's Chairman, Engr Benson Abounu and the Vice Chairman of Lobi Stars, Dominic Iorfa said he was impressed with the initiative of the Club's management for renovating the stadium from their meagre savings.
"This is what is called creativity and value addition as you are working to enhance productivity. I want you to use you as a model to other government officials who do not believe in using little to turn things around," he stated.
While commending the Club's Chairman and Vice Chairman for the initiative, the Ortom acknowledged that if out of the meagre savings the management of the Club has been able to do the renovation works he had seen, they could do more when resources are available.
He therefore directed that a budget should be presented to him by the management for the remaining part of the stadium, including the pavilion, offices, and the players room to be comprehensively renovated to enhance sports development.
Earlier, the Vice Chairman, Lobi Stars Football Club, Mr Iorfa stated that the Stadium was refurbished to provide a conducive environment for the players to stay and give their best to the Club.
He said potable water and standby electricity generator has also been made available for the comfort of the players whom he noted staying together to enhance good cooperation and productivity.
The Governor who later paid condolence on the family of Law Possible Ediba, a veteran sports journalist who passed on last week said the late sports reporter was a true patriot who lived a life worthy of emulation.
Governor Ortom while extolling the qualities of the late Ediba charged his children not to be discouraged by the death of their father but to pick up from where he stopped and brace up for the challenges of life and remain strong and look unto God.
He assured that the state government will participate fully in the burial plans of the famous sports joitnalist who worked until his passed away.
Until his death, the late Ediba was a Senior Special Assistant on Sports to the Benue State Governor.