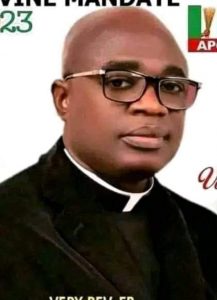 By Aare Abiodun Oluwarotimi, De Oracular Oracle
Three weeks ago, Nigerian Concord Newspaper published a report, quoting the embattled governorship candidate of the Benue APC, Reverend Father Hyacinth Alia as saying that those killing innocent Benue people and farmers weren't Fulani herdsmen.
Reverend Alia also said that he is coming as Benue state governor to restore the dignity of Fulani herdsmen who he said are being tagged unjustly as killers of innocent Benue indigenes.
He made the wicked speech during a consultation in Makurdi three weeks ago.
But immediately the report went viral, Alia through one of his media aides, Kula Terso came up with a lie to exonerate himself by saying that he didn't say Fulani herdsmen were innocent of all the killings in Benue.
Alia through the said media aide pressed further that he didn't say that he was coming as governor to redeem the image of the Fulani herdsmen who had been accused many times for killing innocent Benue people.
Denying what he said in the open has gone a long way to show that Alia isn't a true child of God. He must be using the name of God to deceive the people of Benue state into voting for him in 2023.
Just yesterday, Alia while campaigning in Guma local government said it again in the open that Fulani herdsmen are not responsible for the killings in Benue state.
He went ahead to say that Governor Samuel Ortom is being economical with the truth by tagging Fulani herdsmen as killers of Benue people. We hope Alia will be bold enough to accept that he made this statement in Guma yesterday because it was widely posted on the social media by almost all his media handlers after the outing in Guma.
When Alia denied that he didn't make this same statement three weeks ago, one would believe that it may be a mistake if truly he said so but the one of yesterday shows that he means his plan and utterances to sell Benue to fulani herders.
Another fact is that Alia's statement is not unconnected to the N5b which the Miyetti Allah association has promised to donate for his campaigns with an understanding that he will allow Fulani herders move freely with their cows in the state when he becomes governor.
For the sake of informing our people in Benue state, Alia has agreed with the Fulani herders association to repeal the Anti Open Grazing Law if he is made governor.
In case you missed Alia's speech in Makurdi three weeks ago, read below as reported by Nigerian Concord Newspaper:
The embattled governorship candidate of the Benue state chapter of All Progressive Congress, Reverend Father Hyacinth Alia says nobody should blame Fulani herdsmen for the killings in the state.
This is just as the candidate has given an hint of his plan to repeal the anti open grazing law which was signed by Governor Samuel Ortom during his first term in office to end farmers/herders clashes in the state.
The Catholic priest who was few months ago suspended by the church also said that the killings in Benue are results of internal crisis amongst farmers in the state without any influence of Fulani herdsmen.
According to Alia, the allegations that Fulani are the killers of Benue people are baseless, adding that the people of the state are the ones killings themselves and not the Fulani herdsmen
On ceding Benue land to fulani herdsmen when he becomes governor, Alia said there is nothing wrong if some portions of lands are given to the herdsmen to do their cattle rearing.
He said that herdsmen aren't killing people in Benue, stressing that they are just being accused wrongly that they are killers.
Speaking on Tinubu/Shettima's Muslim-muslim ticket, Father Alia said it is not necessary that a Christian should rule the country in 2023.
He also said that there is nothing wrong for the president and his vice to both be from Islam, noting that religion shouldn't be a yardstick to be elected to a position of responsibility.
I am Aare Abiodun Oluwarotimi, De Oracular Oracle that eats jollof rice in the shrine