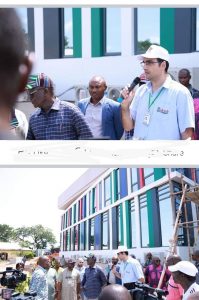 Nigerian Concord Newspaper
We Move Team Benue hails the Executive Governor of Benue state, His. Excellency Dr. Samuel Ortom over the multi-billion naira construction on the Benue Geographic Information Service, BENGIS.
In an appreciation message signed by the convener of the group the Hon. Samuel Ude SSA to Governor Ortom on Land's Survey and Solid Minerals, he affirmed the satisfaction of the Governor over pace of work at the site owing to the factbthat BENGIS under the supervision of a God fearing, smart, innovative and intelligent young commissioner Hon. Bernard Aondoaver Unenge who had excel in various assignments over the years, adding that nothing is expected short of excellent job with international reputable standard.
Governor Samuel Ortom on Wednesday 26th October, 2022 carried out an inspection tour on the ongoing construction of the multi-billion naira BENGIS complex in Makurdi
Governor Ortom expressed deep satisfaction over the execution of the project, he said BENGIS is one of the legacy projects of his administration, which has been executed at the cost of 6.5 billion Naira and it's one of the first projects that qualified for the world bank grant of over 2.5 Million dollars.
The Governor emphasized on how passionate the government of the day is about this project sensing a growing population with a landmass that needs to be effectively captured. He expressed joy over the quality and speed of the work. He measured to the facts that in the next one month, this project should be ready for commissioning so that, there will be speedy processes of acquiring land titles in Benue State, not just in Makurdi but all site light towns in the state.
The Commissioner for Lands, Survey and Solid Minerals, Hon. Bernard Unenge informed that, the project is at 90% completion, saying the building has been completed and furnishing has commenced with external works ongoing and to be concluded in the next one month to make the project ready for commissioning.
In his remarks, the project manager Mr. Mario Bajouk also keyed into the facts that, the main building is ready with internet connectivity, noting that external works will be completed by the first week of December 2022 while appreciating Governor Samuel Ortom for his sustained support since the commencement of the project.