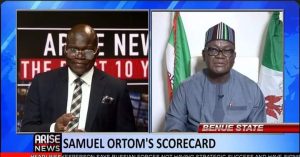 Nigerian Concord Newspaper
Benue state governor, Chief Samuel Ortom has faulted efforts being made by the governor-elect, Father Hyacinth Alia to stop his administration before the hand over day.
Governor Samuel Ortom spoke today during his appearance on Arise TV program , The Morning Show.
The governor said that it is unconstitutional for Alia to start writing memos to MDA's to stop transacting with him, urging him to be patient and allow him to finish his tenure on May 29 when he will peacefully handover to him.
Saying that he would not be found wanting for corruption after his tenure in office, Governor Ortom advised Alia to probe hi administration of 8 years if he chooses to do that after taking over.
He also assured Alia that he will always be available to answer questions if being asked after his administration.
Speaking on the debt profile of Benue state, the governor said: "when I took over, I inherited a debt profile of N79 billion including arrears of salaries and pensions. I applied for a bailout to that effect but only N28 billion was released to me, an amount which was transparently put to use as ascertained by EFCC and other relevant agencies.
"I wrote to the Federal government for the remaining tranche of the bailout but then i had decamped to PDP so despite the approval of Mr President and the Debt management Board, we were frustrated and we could not get the second batch though, my colleagues from other states who were in APC enjoyed the second tranche.
"The federal made an intervention of N28 billion, the remaining balance of N42 billion, we applied for it like other states. We got approval from the DMO, getting to the Central Bank of Nigeria, some politicians from Benue went and said if we give Ortom's government this money to clear arrears, we won't have anything to campaign against him in 2023. Other states applied and got the balance to clear salary arrears, we didn't get. It has purely been politics as I am not in the APC"
Speaking on IGR under his administration, Ortom said: "My administration had put in place creative measures to improve our IGR. We have employed technocrats and experts but our major challenge is insecurity. 18 out of the 23 local governments areas of Benue are under siege so it has truncated all our efforts"
He also said: "When you hear the APC in Benue state saying they are coming to clear salary arrears, it's because they know the foundation we have laid, and they are banking on leveraging on it."
Speaking on insecurity, he said: "It is a deliberate act that the herdsmen have refused to obey our Anti Open grazing law and are in a killing expedition , on a daily basis, I get reports of killings . I wish to put it to you that the Anti Open Grazing law is not the only law my administration has enacted , we have signed into law the highest number of bills in the history of the state.
On the last election, the governor said: "I have lost my Senatorial election this time but am not bothered , it does not matter to me that is why i withdrew the case I earlier instituted at the tribunal despite overwhelming evidence I had.
"I am grateful to Benue people for allowing me the opportunity to serve them in many capacities as Local Government Chairman , at party level , national level and a two term governor, I do not need to overheat the polity so i have accepted by fate. After May 29, i will retire to my farm and do business too"
"The G- 5 Governors have achieved their aim in ensuring that power is shifted to the Southern part of the country . After 8 years of President Buhari , we felt it was natural for power to shift to the South and that is exactly what we have ensured" he also said.