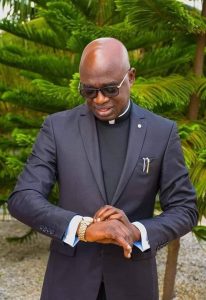 Nigerian Concord Newspaper
The immediate annulment of the Benue State Anti Open Grazing law which was signed by Governor Samuel Ortom in 2017 topped the meeting which was held at the Aso Villa yesterday between President Muhammadu Buhari and the Benue state governor-elect Reverend Father Hyacinth Alia.
There was a media report yesterday that Alia went to the Presidential Villa with the Minister for Special Duties and Intergovernmental Affairs, Senator George Akume to present his Certificate of Return to the president but inside sources told Nigerian Concord Newspaper that the main subject of the meeting was how to repeal the Anti- Open Grazing law in order to allow Fulani herders a free access to Benue's lands.
Recall that Alia had denied media reports that he was in a pact with the Fulani herders association to cede Benue's lands to their members in order to enable them move freely with their cows without being checked.
In the build up to the last general elections, it was reported that the Fulani herders association promised to bankroll the electioneering of Father Hyacinth Alia since he had agreed to do their bidding when he becomes the governor of Benue state.
In the deal were the governors of Katsina and Kaduna states, Aminu Masari and Nasir El-Rufai who secured N500 million among several huge amounts of money for Alia from the Fulani herders association to support his court cases shortly after he emerged as the governorship candidate of the All Progressive Congress in the state.
Meanwhile, apart from repealing the law, Alia reportedly assured the president during yesterday's meeting that he would cede Benue's lands to Fulani herders in the state.
Just this morning, a national newspaper (Not Nigerian Concord Newspaper) reported that Father Hyacinth Alia spoke with reporters at the Presidential Villa after the meeting with President Muhammadu Buhari that he would review the Anti Open Grazing law.
According to Alia in the interview with the reporters, there are several errors in the law which he intends to correct immediately he assumes duties as governor.
The governor-elect also stylishly ensured that he would use the State House of Assembly to perfect the annulment of the law.