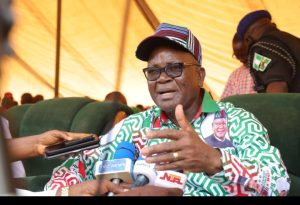 Nigerian Concord Newspaper
The Special Adviser to Governor Samuel Ortom on Media and Publicity, Mr. Terver Akase has faulted media reports which accused the governor of turning government funds in the State Universal Basic Education, SUBEB to his own personal company.
Mr. Akase faulted the fake media report in a press statement he signed and made available to journalists on Saturday.
The statement reads below:
We read a misleading write-up being circulated online alleging albeit without any signatory under the title 'How Gov Ortom Has Turned Govt Funds In Benue SUBEB To His Own Personal Company and His Personal Contractor'.
We must state unequivocally that Governor Samuel Ortom does not award contracts for the Benue State Universal Basic Education Board, SUBEB, and therefore has no connection with the award of the said contracts.
Even before he became Minister of the Federal Republic, Governor Ortom resigned the chairmanship of his companies as stipulated by law and the code of conduct for public officers.
Oracle Business Limited which is cited in the write-up as the firm that was awarded the SUBEB contracts is a corporate entity operating in the state with equal rights to bid for contracts like any other enterprise, as long as due process is followed and the company is found competent to handle the projects.
The fact that the person(s) who wrote the mischievous piece did not include their names is evident that the write-up is not only fake but is also politically motivated.
We challenge anyone with proof that Governor Ortom was involved in the award of the SUBEB contracts to step forward with a formal complaint, and the Governor will respond accordingly.