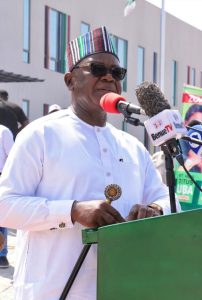 Nigerian Concord Newspaper
Benue state governor, Chief Samuel Ortom says that the state's law against open grazing is still in force.
This was contained in a press statement signed by the governor's Special Adviser on Media and Publicity, Mr. Terver Akase.
The statement reads below:
It has become pertinent to clarify the misconceptions in some sections of the media regarding the decision of the Benue State Security Council to suspend operations of the state Livestock Guards for two weeks.
The suspension of the Livestock Guards is only a grace period which became necessary to allow for reduction in the influx of cattle into the State.
Majority of the pastoralists who came into the state said that after the February 25 and March 18, 2023 elections, they were told that a new government was in place in Benue State and the ban on open grazing of cattle had been lifted paving the way for them to move into the state without hindrance.
As Governor Samuel Ortom stated while briefing the press at the end of the State Security Council meeting Tuesday, 11th April, 2023, the action is part of measures to ensure that all those who invaded the state with cattle leave so that Benue people would have peace and go about their legitimate and lawful businesses.
We must stress that the enforcement of the Benue State Open Grazing Prohibition and Ranches Establishment Law is still in full force and anyone who flouts the law at the expiration of the two weeks grace period will be apprehended and prosecuted.
Governor Ortom once again appreciates the people of Benue State for their support since the enforcement of the law commenced in 2017.