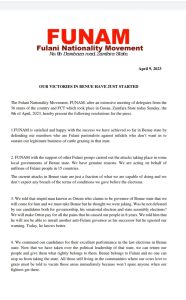 Nigerian Concord Newspaper
Celebrating the recent killings in Benue state, the Fulani Nationality Movement, FUNAM, says the massacres orchestrated by herders in state have just started.
This was contained in a communique issued by FUNAM national president, Umar Amir Shehu after an extensive meeting of delegates from the 36 states of the country and FCT which took place in Gusau, Zamfara State yesterday.
The statement reads below:
The Fulani Nationality Movement, FUNAM, after an extensive meeting of delegates from the 36 states of the country and FCT which took place in Gusau, Zamfara State today Sunday, the 9th of April, 2023, hereby present the following resolutions for the press.
1.FUNAM is satisfied and happy with the success we have achieved so far in Benue state by defending our members who are Fulani pastoralists against infidels who don't want us to sustain our legitimate business of cattle grazing in that state.
2. FUNAM with the support of other Fulani groups carried out the attacks taking place in some local governments of Benue state. We have genuine reasons. We are acting on behalf of millions of Fulani people in 15 countries.
The current attacks in Benue state are just a fraction of what we are capable of doing and we don't expect any breach of the terms of conditions we gave before the elections.
3. We told that stupid man known as Ortom who claims to be governor of Benue state that we will come for him and we must take Benue but he thought we were joking. Was he not defeated by our candidates both for governorship, his senatorial election and state assembly elections?
We will make Orton pay for all the pains that he caused our people in 8 years. We told him that he will not be able to install another anti-Fulani governor as his successor but he ignored our warning. Today, he knows better.
4. We commend our candidates for their excellent performance in the last elections in Benue state. Now that we have taken over the political leadership of that state, we can return our people and give them what rightly belongs to them. Benue belongs to Fulani and no one can stop us from taking the state. All those still living in the communities where our cows love to graze must be told to vacate those areas immediately because we won't spare anyone when our fighters get there. We have paid for those lands and we are coming to take them.
5. We warned Ortom and the other infidels that once you are against Fulani's long-term interest, we shall get you down. This is a clear warning. We hope those who take us for granted will get the message and take heed.
6. FUNAN is once again impressed with the Benue people for doing what we advised them to do by voting for our candidates in the 2023 elections.
The next thing we want them to do is listen and obey whatever the incoming government of the state will tell concerning their relationship with Fulani in Benue. We have already given our conditions which must be met for the ongoing attacks in Benue state to stop:
(i) Our people must be allowed to return and live in Benue state without molestation.
(ii) Pastoralists must be given parcels of land in each of the 23 local government areas of Benue state where they can live with their families and rear their cattle.
(iii) The incoming government of the state has agreed to immediately ban activities of Benue state Livestock Guards and subsequently dissolve that illegal organization and take them to court for prosecution. Ortom must refund all the money he took from Benue treasury to sponsor those rascals called Livestock guards to torment Fulani. He refused to pay workers and pensioners but was busy funding the atrocities of livestock guards against our people. We expect that this action will be taken in the first few days of the new administration.
(iv) The incoming government of Benue state has agreed to review and later repeal the Anti-open grazing law and dissolve community volunteer guards. We expect that this action will be carried out in the first two months of the new government.
7. The incoming Governor of Benue State is very much aware of our demands so we don't expect him to deviate from his pledge to us.
8. The people of Benue should know that the renewed massive attacks across the state is just to sound a note of warning as to what will come if they continue to be stubborn. They are aware that we have never failed in making good our intentions, and we will always get what we want.
9. Finally, the meeting reviewed the reports from other states and resolved to send a message of warning to some state governments to henceforth desist from maltreating Fulani pastoralists by using security men to arrest our people.
10. We have lost many of our members and thousands of cows in nearly 34 states of the federation. This is unacceptable! We will no longer tolerate the unprovoked attacks on our members in any state.