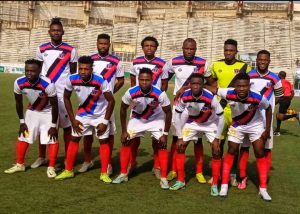 By James Apine
When the administration of Governor Samuel Ortom came in 2015, some gladiators and jobbers wrote several fake proposals to get the Vice Chairmanship position of the state-owned club Lobi Stars FC.
Most of the promises made in their respective proposals were to deceive the governor just to get the job and nothing more.
They told the governor that they didn't need funding from the state government to run the affairs of club that they have the capacity to bring in investors to run the affairs of the Club. Imagine Clubs from these regions namely, South West, South South, and South East who are internationally connected are still sponsored by their various state governments.
Eventually the job was given to them but, the said investors were no where to be found, instead, mismanagement of funds, non motivation of staff and players played a dominant role.
At this stage after three changes of the Vice Chairmanship position from Idoko to Chugh and Tama, and the Club was at the verge of relegation from the Nigeria elites league( NPFL), there were a lot of uncertainties that hover around the Club, leaving Governor Samuel Ortom with no option than to bring back the current Vice Chairman and CEO of the Club, Mr. Dominic Iorfa. And since his return, Iorfa has brought back the desired smiles to the Benue People irrespective of their political affiliations.
Note, anytime there is a new government, people come up with unrealistic ideas for their personal interest and gains just to get appointments even when such appointments are professionally inclined. They come out with various proposals that will never be realistic.
Now that the Governor-elect Rev Fr. Alia is about to be sworn in come 29th May 2023, the same group of persons have started lobbying again despite that the Governor-elect had in his statement said that those who have done well in their various fields of endeavour would be carried along in his administration.
…..To be continued
James Apine, PhD, a sports analyst writes from Makurdi