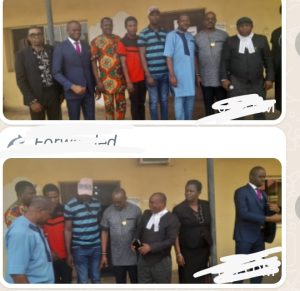 Nigerian Concord Newspaper
The Labour Party (LP), Ondo State Chapter and its candidate jointly withdrew it's petition today at the Election Petition Tribunal sitting in Akure against the House of Representatives member-elect of All Progressives Congress (APC), Hon. Olubunmi Tunji-Ojo in the Feb. 25 election in the Akoko North East and North West Federal Constituency.
Sequel to the withdrawal of the petition by Labour Party and its candidate, the three-man tribunal agreed with the petitioners and struck out the petition in line with article 29 of 2022 electoral act as ammendment. saying the petition has been withdrawn hence dismissed in its entirety.
It would be recall that LP and its candidate, Ademuyiwa, had earlier petitioned INEC, All Progressives Congress APC and Hon. Olubunmi Tunji-Ojo as respondents for omitting allowing the party's logo on the ballot paper during the election and asked for another election to hold in the federal constituency.
The Party (LP) while withdrawing its petition at the Election Petition Tribunal through its counsel, Femi Emmanuel Emodamori said the petitioners/Applicant have severally and jointly resolved to discontinue the petition.
"The 1st Applicant's decision in this regard is based on the fact that the 2nd Applicant's withdrawal would leave her with no utilitarian value in pursuing the petition since she can no longer replace/substitute the 2nd Applicant as her candidate, even if the petition eventually succeeds", he noted.
In his reaction on behalf of Olubunmi Tunji-Ojo, a Chieftain of All Progressives Congress in Ondo state Evangelist Olumuyiwa Asagunla, the Odofin Ogbooye of Afa Okeagbe said the ruling of the tribunal was another dark day for enemies of progress bent at bringing God's anointed down at all cost.
In his words "I am happy about the historic decision of the petitioners to withdraw the case, it is an achievement not only for Hon. Olubunmi Tunji-Ojo, but also to the Apc family in Ondo state and an achievement of peace and steady development in the entire Akoko North federal Constituency. Now Hon.Bunmi Tunji-Ojo can face his Legislative work.
He enjoyed the party hierarchy at the state level not to spare political distractors that connived with and instigate opposition to embark on this baseless case against the winner of February 25th federal House of Representative Elections in Akoko North West and North East federal constituency.
In his words, the Counsel to All Progressives Congress, Tolu Babaleye noted that the petition was dismissed in its entirety and it cannot never be reawakening again.
"It is a victory for APC and Hon. Olubunmi Tunji-Ojo. On our side here, we are very happy indeed".
The Labour Party Candidate, Badmus Ademuyiwa said his decision to withdraw the petition was in the interest of peace and his community. "Let me say here that we operate as one entity in Akoko North Federal Constituency and as such, I need to bow to my community interest."