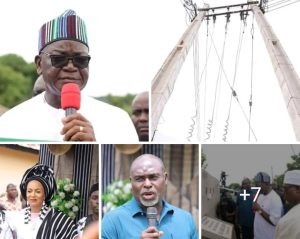 Nigerian Concord Newspaper
Benue State Governor, Samuel Ortom has disclosed that not fewer than 45 rural electrification projects were executed by his administration in different communities to boost socio-economic activities.
Governor Ortom stated this Monday, May 22nd, 2023 while commissioning a rural electrification project in Kpengwa community, Kohov, Shangev-Ya in Kwande local government council.
The Governor noted that milestones were achieved by his administration in rural development particularly in the provision of electricity to enhance economic activities and give the rural dwellers a new lease of life.
He said he has directed his Commissioners from the respective communities to commission the projects before the exit of his administration in a few days.
Governor Ortom said he would continue to execute his mandate for the people of the state until the expiration of his tenure.
He added that the recruitment of more teachers was to fill up the existing vacancies and reinforce the teaching service in the state.
Chairman of Kwande local government council, Hon. Orjiir Gbande and an indigene of the area, Chief Emmanuel Viashima expressed appreciation to the Governor for executing the project, stating that it has made life more comfortable for people of the area.
Governor Ortom had earlier attended the marriage of a High Court Judge in the State Judiciary, Justice John Shishi and his wife, Helen at Ajio, Mbape in Shangev-Ya.
He congratulated the couple and prayed that their marital union will blossom in everlasting love.
The Governor commended the couple for choosing to honour God as they consummate their love for each other, noting that it was the right thing to do as responsible people.
Ter Kwande, His Royal Highness, Chief Timothy Ahile and Ter Guma, His Royal Highness, Chief Dennis Shemberga gave royal blessings to the couple and prayed for their marital union to be peaceful.
The ceremonies were attended by dignitaries from Guma local government where Justice Shishi hails from.