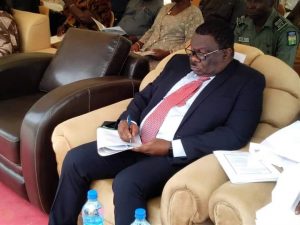 By Margaret Apine, Makurdi
Facts have emerged on the judgement of Justice A.R. Mohammed in the case between Chief Michael Kaase Aondoakaa and the disputed governorship candidate of Benue APC, Reverend Hyacinth Alia where a gross and miscarriage of Justice was done.
As a Benue indigene and an investigative editor, immediately the judgement was pronounced by AR Mohammed, I consulted very senior lawyers, Judges and two retired supreme court Justices with the facts of Aondoakaa case because of its importance to Benue state which has been under Senator George Akume Slavery.
The first question i was asked is when did APC announce or declare the result of the primaries which returned the dismissed Catholic priest, Father Alia? I told them it was on the 28th May 2022. They asked further whether Aondoakaa's name was contained in the declaration of result sheet which i answered yes.
I further told them that APC cancelled 12 local Government Areas result and conducted another primaries on the 8th and 9th June 2022 which declared the dismissed priest, Father Alia as the winner in the same election.
I then informed them that Aondoakaa's name was also contained in the declaration of result sheet of 9th june 2022. I also informed them that Aondoakaa's prayers included that the court should nullify the return of dismissed father Alia based on the two results announced by APC on the 28th May 2022 and 9th June 2022.
It was at this point that I was asked when did Aondoakaa file his case, i told them it was on the 10th June 2022.
They calculated from 28th May 2022 to 10th June 2022 and discovered that the case was filed within 14 days as stipulated by section 285(9)of the 1999 (as amend).
But the correct calculation should be from 9th june 2022 when the said primaries completed. They wondered why Justice AR Mohammed did not direct his mind to the primaries conducted on the 9th june 2022. Some said this is a clear NJC case because the facts of the primary conducted on the 9th June 2022 were before him but His lordship for very strange reason ignored it and did not mention that fact in his Judgment.
Most of them wondered why Justice Mohammed refused to follow the law as laid down by the Court of Appeal and the Supreme court as when the Trial judge should calculate compliance with 14 days stipulation in filing pre -election cases similar to Aondoakaa v Alia case.
They concluded that compliance with statutory provision of section 285(9) of the 1999 Constitution of Nigeria as to filing pre-election matters within 14 days is from the date the result is declared and not as erroneously held by Justice AR Mohammed.
One of the Senior Advocate of Nigeria( name with held) give me the Supreme court decision of lokpobiri V.APC (2021)3 NWLR (pt1764) 538 to support the fact that the 14 days calculation ought to be from 9th June 2022 which Aondoakaa filed his case within time on the 10th June 2022 just a day after the conclusion of the primaries.
They wondered what really happened because Hon Justice AR Mohammed is well known to be an upright judge. To them, it looks like he was in a hurry or under extreme pressure or even under external pressure not to hear the case on its merit .
Another Senior Advocate said it could be a ploy to favour Aondoakaa at the Court of Appeal and Supreme Court as he Aondoakaa is anchoring his case on interpretation and applications of sections 77(c) and 82(1) &(2) of the Electoral Act 2022 which non compliance such congresses invalid.
That Justice AR Mohammed having ruled in favour of Aondoakaa that his case is a pre -election matter, he wants the court of Appeal to finish Alia when it will be too late for APC to conduct a fresh primary election just like it happened in 2019 in Zamfara State.
I know Aondoakaa is a master strategist, he may be planning when to hit Akume and his puppet dismissed father Father Alia when they will have no answer or too late for APC in Benue State to have a governorship candidate .
There are rumours that Aondoakaa is quite aware that if Justice AR Mohammed orders fresh primaries Akume will still fake results for dismissed father Alia.
Be warned APC, don't ignore my advice, make peace now with Aondoakaa and others. Your victory now is a mere trap.
I know Aondoakaa who once said late President Yaradua can rule from any where, yet both Former President Jonathan and President Buhari followed it.The same Aondoakaa as Attorney General of the Federation advised that a retiring chief Justice of Nigeria can Swear in his successor and it was done. Justice kutigi swore in Justice katsina Ala as chief Justice of Nigeria during the medical vacation late President Yaradua.
Only a fool will believe that striking out Aondoakaa case on such weak ground and also refusing to consider the merit of case as is normally done by trial court is not a ploy to finish APC.This
situation looks more like a smart move from an insider player than victory .