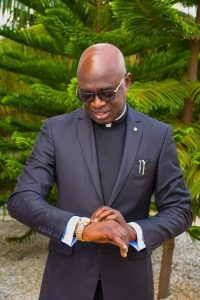 Nigerian Concord Newspaper
The national commissioner in charge of Information and Voters Education at the Independent National Electoral Commission, Mr. Festus Okoye, says that the electoral body will remove the name of the embattled governorship candidate of the Benue State chapter of the All Progressive Congress, Reverend Father Alia, if a competent court gives a ruling in that direction.
Okoye spoke with Nigerian Concord Newspaper's reporter in a brief telephone chat this morning.
According to Okoye, it had happened in Ondo state before in 2016 when names of two different governorship candidates under the umbrella of the People's Democratic Party began to show one after the other on INEC's portal for more than four times before the Supreme court finally gave a ruling two days to the election that a particular candidate should fly the party's flag in that election.
The INEC national commissioner pressed further that the electoral body is waiting for the outcome of the multiple court suits, challenging the candidacy of the embattled governorship candidate before a change can be made.
He however stated that the party can no longer be allowed to do another primary election or send a name of another candidate, adding that any negative ruling against Alia's candidacy will mean that the Benue APC won't participate in the 2023 general elections.
Okoye also said that candidates names can be removed even in the morning of an election day if there is a clear court judgement which asks the electoral body to do so.
He also noted that INEC will not be forced by anyone no matter highly placed to do against whatever any court says on Alia's candidacy.
His words: "There are pressures on INEC from several quarters but we won't do against whatever the court pronounces on this matter. If we get a judgement that his name should be removed, we will do that without wasting any time.
"Removing a candidate's name from our portal isn't a new thing. Once there is a court order, we will act accordingly. For now, no court has ruled against his candidacy and that is why his name is still on the portal.
"We are aware that several cases are in court, challenging his candidacy and we are waiting for a court order and once this arrives our office, we will remove his name"