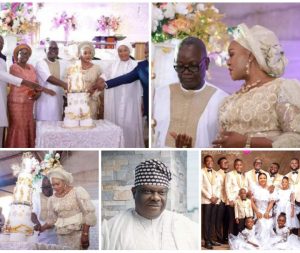 Nigerian Concord Newspaper
Former Attorney General and Minister of Justice, Chief Michael Kaase Aondoakaa SAN, and Speaker of the Benue State House of Assembly and governorship candidate of the People's Democratic Party, Rt. Hon Titus Uba, have lauded the humanitarian initiatives of Benue's first lady, Dr. Eunice Ortom PhD.
Aondoakaa and Uba made the commendations while congratulating Governor Samuel Ortom's wife who celebrated her 50th birthday at the weekend.
In a statement personally signed by him, Chief Michael Kaase Aondoakaa praised Dr. Ortom for touching several people's lives with her Eunice Spring of Life Foundation.
Calling the Benue first lady a blessing to the state, the former Attorney General of the Federation noted that Dr. Ortom's efforts to help the poor and people at the IDPs can never be forgotten in the history of Benue state.
The statement reads: " Chief Michael Aondoakaa SAN on behalf of my family , friends and political associates congratulate wife of the Benue State Governor Doctor Eunice Ortom on her 50th Birthday Anniversary celebration.
"Her excellency ,I identify with you on this special Day because of love for the poor and vulnerable Women empowerment through Eunice Spring of Life Foundation which has touched many lives.
"Your medical Outreaches in Benue especially those living in Internally Displaced Camps across the state has greatly improved the lives of those living in those IDPs camps .
I must state here that God will continue to keep you and strengthen you to positively touch the lives of Orphans and those living with disabilities across the State"
Also, Peoples Democratic Party governorship candidate in next year's governorship election in Benue State and Speaker of the State House of Assembly, Rt Hon Titus Uba has commended the foresight of the State First Lady, Dr. Mrs Eunice Ortom in championing advocacy for women empowerment, girl child education and support for the less privileged members of the society.
Uba who spoke Sunday, 28th August, 2022 at a special thanksgiving service organized by Nongov Women Development Association to celebrate the State First Lady on her golden age at NKST Church, Gbajimba as Chairman of the occasion, acknowledged the series of intervention by the governor's wife through her pet project, Eunice Spring of Life Foundation (ESLF), an initiative he noted has given impetus to family life and has provided succour for the less privileged members of the society through empowerment.
He also noted that Mrs Ortom's relentless commitment to the course of women has yielded positive result as most women in the State are now holding key public offices.
The Benue number one Lawmaker on behalf of his family, the 9th Benue Assembly and political associates wished the Benue First Lady many more fruitful years in good health and sound mind to continue to serve humanity.
Many other eminent Benue sons and daughters also gave goodwill messages including, the State Deputy Governor, Engr. Benson Abounu, BIRS Boss, Chief Mrs Mimi Adzape- Urubibi, Prof. Tony Ijohor, SAN, State Head of Service, Mrs Veronica Onyeke, National Assembly members among others.