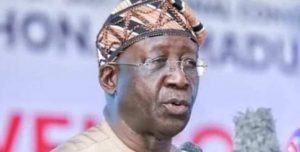 Nigerian Concord Newspaper
Facts have emerged on how the embattled national chairman of the People's Democratic Party, Iyorchia Ayu is fueling the crisis in the party in favour of the presidential candidate of the All Progressive Congress, Asiwaju Bola Tinubu.
Nigerian Concord Newspaper gathered that Ayu is behind the unresolved crisis between the five aggrieved governors and the presidential candidate of the PDP, Alhaji Atiku Abubakar so the party won't be peaceful and then go into the next election with a divided house.
Recall that the five aggrieved governors, Nyeson Wike, Samuel Ortom, Seyi Makinde, Ikpeazu and Ugwuanyi have been agitating that the national chairman should resign since the party had produced a northern presidential candidate.
Ayu had during his inaugural speech as PDP national chairman vowed to resign should the party produce a northern presidential candidate so that equity could be achieved.
Sources close to Ayu are accusing him of having an understanding with Tinubu to ensure that the crisis in the PDP persist so that there will be a divided house that will ensure victory for the APC.
According to the sources, Ayu is the person that is inciting Atiku against Wike and his colleagues. "He keeps telling Atiku that they aren't critical to the 2023 general elections" a source noted.
"Ayu is aware that he won't get any tangible post if Atiku wins. He is also aware that he won't continue as national chairman so he wants PDP to fail so that his old time friend, Bola Tinubu can be president and make him the Secretary to the Federal Government.
"Ayu has prepared a soft landing for himself and to return to APC immediately Tinubu wins won't be hard for him, and that is why he is making sure that the crisis in his own party isn't resolved. If Ayu wants the crisis resolved, he won't be uttering those inflammatory statements he has been uttering since the party's BOT has started looking for a way to resolve the crisis" one of the sources told this newspaper.