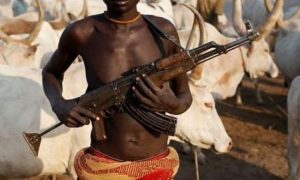 Nigerian Concord Newspaper
The Coalition for Peace and Justice has attributed the recent Fulani attacks on Benue villages and IDPs to the promises made to the headers association by the duo of Senator George Akume and Father Hyacinth Alia during the last elections.
This was contained in a press statement signed and made available to journalists by the secretary, Sesugh Chile, PhD.
Senator George Akume and Alia had been accused severally of promising to cede Benue's lands to Fulani herders and also allow them open grazing if they could throw their weight behind the Benue APC governorship candidate during the last election.
The statement reads:
In the last three weeks, Fulani herdsmen have waged ferocious attacks on Benue communities killing over 200 people with property worthy billions of naira destroyed in Kwande, Otukpo, Agatu, Apa, Ado, Logo, Guma and Gwer-West local government areas of the state.
This sad development is coming on the heels of reckless utterances made by the Benue State Governor-elect, Fr Hyacinth Alia and the Minister of Special Duties and Inter-Governmental Affairs, George Akume and the deal the duo had with the Fulani oligarchy before the 2023 elections.
As a group of concerned Benue people, when we heard about a certain agreement between Alia supported by Akume and some Fulani elites including two notorious northern governors, we initially thought it was mere political propaganda; but recent events have proved everything that was said to be correct.
Some days ago, Akume led Alia to the Presidential Villa where they met with President Muhammadu Buhari who was said to be very excited on hearing the reassurances made by Alia that he will fulfill his promise to return Fulanis to Benue State and give them land to graze their cattle. Alia is also quoted to have promised Mr President that he would review the Benue State Open Grazing Prohibition and Ranches Establishment Law to make it weak to accommodate Fulanis' archaic pattern of animal husbandry. In fact, the Benue state Governor-elect gave the same indication while briefing State House Correspondents after their meeting with the President.
As people who are predominantly farmers and whose means of livelihood is being destroyed daily by the marauding herders, we find Akume and Alia's unholy alliance with our enemies very disturbing. The incoming Governor has repeatedly promised that he will ensure "peaceful coexistence" and "reconciliation" with the violent pastoralists. This line of reasoning was first pushed to us by President Buhari when he reluctantly visited Benue state in March 2018 after his kinsmen killed 73 people in Guma and Logo and the martyrs were given a mass burial.
Benue State is blessed with abundant fertile land and we expected the incoming Governor to tell the people what plans he has for agricultural development; but he appears more interested in carving out our lands to give to the Fulani. He has never told us what he intends to do for crop farmers to boost their yearly produce. He is simply not interested.
Akume and Alia have never condemned the attacks and killing of our people. If they are men of conscience, they would not have visited the Villa on a day 46 innocent people including children were slaughtered like animals in Otukpo by rampaging herdsmen. They would have delayed their visit in honour of victims of the attack.
We want Alia and Akume to know that we the people of Benue will not be party to whatever deal they had with the Fulani, and we will resist any attempt to annex our lands and give to the herders to occupy.
This is not a threat but a firm resolve of a people who are determined to resist subjugation and slavery anchored by the caliphate using some of our sons as pawns in a chess game and as useful idiots.