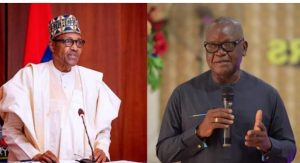 Nigerian Concord Newspaper
The federal government has again shown that it is deliberately frustrating the efforts of the governor of Benue state, Samuel Ortom to curb insecurity in his state.
Tye federal government's hidden plan was revealed through the latest statement credited to the Chief of Defense Staff, General Lucky Irabor who spoke after a National Security Council meeting in Abuja today that no governor has the authority to procure AK-47 for any State-owned vigilante group.
Recall that the governor has yesterday during a ceremony marking the Passing-Out Parade of the state's security outfit, known as the Community Volunteer Guard, issued a month ultimatum to the federal government to grant his state's request for the permit to arm the new outfit with automatic weapons.
The governor claimed that he had applied to the federal government for permission to be granted to the state security outfit to bear sophisticated arms to confront the terrorists operating in the state that are heavily armed but all to no avail.
But findings show that the federal government under President Muhammadu Buhari for political reason will leave no stone unturned in its quest to frustrate the effort of Governor Ortom to stop Fulani killings and other forms of insecurity in his state.
To further show how efforts by Ortom to stop insecurity is truncated, Gen. Irabor said that the deployment of high calibre weapons, such as the AK-47 rifles, among others, lies strictly within the purview of the federal government security agencies.
Findings by Nigerian Concord Newspaper showed that the federal government is not ready to issue the licence to procure the riffles to Governor Ortom so that the Benue State community volunteer guards will have no solid weapon to fight Fulani herdsmen during any attack.
Findings also showed the federal government is sponsoring Fulani herdsmen to attack Benue PDP leaders and members so as to weaken the ruling party in the state during the next general elections.