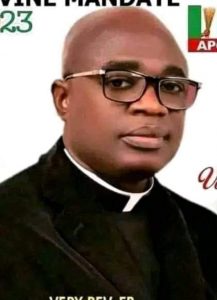 Nigerian Concord Newspaper
The disputed governorship candidate of All Progressives Congress, APC in Benue State, Hyacinth Alia has made Governor Samuel Ortom his campaign manifesto.
He knows nothing else to tell the people. Anywhere he goes and he is handed a microphone to address the people, he talks about the Governor from the first sentence to the last. But why will I blame him? You can't give what you don't have.
Perhaps mentioning Governor Ortom and his administration gives the man temporary relief from the numerous court cases filed against him by his fellow APC aspirants.
The suspended priest however needs to come clean on the following:
1. Alia is yet to deny his links with external interests (enemies of Benue) who are suspected to be sponsoring him. Pictures went viral of his meetings with such persons outside the state.
2. I challenge Alia to publicly condemn the attacks and killing of Benue people by Fulani herdsmen. He has not issued a mere statement to sympathize with victims of the attacks. It is on record that he accused Benue youths of being responsible for the killings.
3. I challenge him to mention only one church that he developed in any of the parishes where he served as a priest. Just one church.
The next time he mounts a campaign podium, he should remember to respond to the above posers.
Terver Akase is the Special Adviser to Governor Samuel Ortom on Media and Publicity