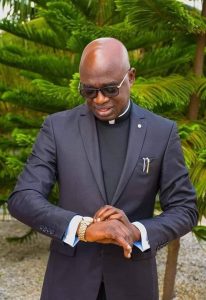 By Nelson Azenda, Kaduna
Nigerian Concord Newspaper can authoritatively report that the governorship candidate of the Benue state chapter of All Progressive Congress, Reverend Hyacinth Alia has signed a fresh agreement with leaders of the Miyetti Allah association as well as some Fulani leaders in Kaduna state.
Our correspondent in Kaduna who monitored the latest development reported that Alia held two major meetings with members of Miyetti Allah groups to pledge his loyalty with promise that he will cede Benue's lands to Fulani herders immediately he becomes governor of the state in 2023.
According to our correspondent, the meetings had in attendance leaders and members of Miyetti Allah association from Kaduna and other states and also from some neighboring countries in West Africa.
Recall that Alia met with the governors of Kaduna and Katsina states, Nasir El-Rufai and Aminu Masari few months ago.
Both governors are his major sponsors on behalf of the Fulanis.
Also recall that it was reported that the Kaduna State governor and other strong proponents of Sharia and Emirate system had identified the dismissed and embattled Catholic Church priest as the one who can help to actualize the age long agenda of the Fulani to take over Benue State which their ancestor Usman Dan Fodio started.
"They are dangling carrots in Alia's face in the form of billions of naira and he is in a frenzy to grab the money. As far as he is concerned, Benue can go to blazes" a source who didn't want to be mentioned confided in our correspondent in Kaduna state.
One of our sources in Kaduna said the troubled priest was earlier in the state to solicit for financial support from Governor Nasir El-Rufai and other money bags to enable him fund his 2023 campaign. "El-Rufai was quick to agree to sponsor the campaign of Alia if he accepted the terms and conditions he would be given. The desperate priest nodded in acceptance that he would comply with all the terms and conditions" the source added.
The source continued: "His latest meeting with the Miyetti Allah group was to finalize the agreement and go into specifics about which part of Benue State that Fulanis will occupy in the first quarter. Guma, Makurdi, Gwer West, Logo, Gwer East and Kwande are the local government areas the Fulani negotiators first demanded. In all of this, the Miyetti Allah groups are asking for nothing less than large portions of land in at least 20 local government areas of Benue State.
"Alia agreed to meet all their demands including the condition that in the first two months after May 29, 2023, the Open Grazing Prohibition and Ranches Establishment Law will be abolished and a new law will be enacted to grant free access to Fulanis.
"Alia's shocking deal with Fulanis has disappointed even some of his close supporters who genuinely love the state"
Meanwhile, some members of the APC in Benue state who were aware of the meeting but spoke to our correspondent on the condition of anonymity said they were appalled by the desperation of their candidate to acquire power at all costs.
Meanwhile, Nigerian Concord Newspaper has gathered that in the early part of next week, Alia will meet with the National Chairman of APC, Governor El-Rufai, Governor Aminu Masari of Katsina and other Fulani elites to consummate the pact and give more money to him as he is ready to trade off his state for crumbs under the dinner table of Fulani oligarchs.