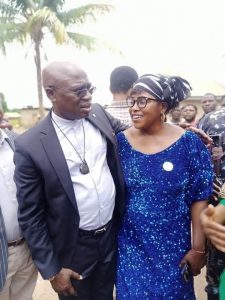 Nigerian Concord Newspaper
The Forum of Concerned Christians, FCC has expressed deep worries over the sustained smear campaign against the Catholic Bishop of Makurdi Diocese, His Lordship, Chikpa Wilfred Anagbe CMF, from the camp of the governorship candidate of All Progressives Congress, APC in Benue State, Fr Hyacinth Alia.
The was contained in a press statement signed by Bro. Augustine Aende
President, FCC and Mr. Oliver Shaminja
Secretary, FCC.
The statement reads:
As a group made up of members of various Christian denominations united for the common interest of ensuring justice for all Christians, we find the sponsored media attacks on His Lordship as a very dangerous and unacceptable development.
Our investigation has shown that most of those insulting Bishop Anagbe on social media have Fr Alia's image as their profile pictures. What does the APC candidate, a priest of the Holy Roman Catholic Church want to achieve with the torrents of insults being rained on the Bishop by his supporters? How do the hatred and insults translate to votes for him in next year's election?
We have it on good authority that the Bishop of Makurdi Diocese is not responsible for Alia's failures as a priest and now as a politician. His current suspension is not the first. He was suspended from Makurdi too as a result of his negative conduct that was against the rules and principles of the church. Bishop Anagbe did not ask Alia to leave the priesthood and join politics, so how is the Bishop liable for his suspension?
We expected Alia to be telling Benue people what he has to offer, not embarking on a campaign of calumny against the Bishop and other people. So far, he has failed to convince us on why we should trust him. Many people have written to question his antecedents as a priest but he has not responded to provide evidence of his achievements while he headed some parishes before he left priesthood to join politics. We couldn't find any evidence of performance in his 33 years in the priesthood.
Others have challenged Alia to prove that he indeed healed just one person during his 'healing masses' but that challenge too has not received a single response from his camp. Instead, his supporters descend on whoever raises the posers with insults.
The APC governorship candidate is showing too much desperation in his ambition. He doesn't have to pull down the whole Benue State to be governor. Attacking Benue sons who have made a name for themselves simply on account of the fact that they hold contrary opinions is not healthy for democracy.
It is on record that his supporters composed songs to insult three prominent sons of the state, Senator Barnabas Gemade, Chief Mike Aondoakaa and Professor Terhemba Shija just because the trio kicked against the sham primary election that produced him. He was seen on video many times leading the songs and dancing to the tunes as his fellow aspirants were being insulted by his supporters. Acts of this nature do not portray him as a good politician with team spirit.
We join the Makurdi Catholic Diocesan Laity Council to advise Alia to leave Bishop Anagbe and other Benue sons who have refused to be hoodwinked into his lies alone. He must call his social media urchins to order. His Lordship the Bishop did not advise APC to conduct a fraudulent primary election for Alia. The Bishop neither had a hand in the numerous court cases instituted against the APC candidate by his party members.
This caution has become necessary because going forward, we will not fold our hands and watch anyone insult the Bishop and the church in the name of politics. No one has the monopoly of foul language.
Enough said.