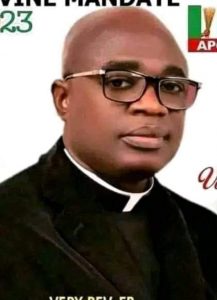 Nigerian Concord Newspaper
Nigerian Concord Newspaper can authoritatively report that the disputed governorship candidate of the Benue state chapter of All Progressive Congress, Reverend Father Hyacinth Alia has gotten a whooping N5 billion from the association of Fulani herdsmen and some Northern governors to foot the bills of his election in 2023.
This donation, according to a classified document at the disposal of this Newspaper didn't just come without a documented agreement that Alia will cede Benue lands to fulani herdsmen and also make some of the Miyetti Allah leaders tax consultants in Benue state on assumption of duties as governor of the state.
Information at the disposal of Nigerian Concord Newspaper indicated that the deal with Fulani herdsmen and leaders of Miyetti Allah association was facilitated by the duo of Governors Aminu Masari and Nasir El-Rufai of Katsina and Kaduna states respectively.
Both governors reportedly asked Alia to partner with the herders and leaders of the Miyetti Allah organization so they could bankroll his election.
Part of the agreement with the Miyyeti Allah organization is that Alia will repeal the Open Grazing Prohibition and Ranches Establishment Law of Benue state within the first thirty days in office.
He is also to grab Benue lands and release same to the herders so they can have free access in the state.
This is just as Benue Coalition for Democracy under the leadership of Comrade Ternenge Bendega has urged Alia to withdraw from the race since it is clear that his administration will be piloted by fulani herdsmen and leaders of Miyetti Allah organization.
The Benue pressure group said that Alia isn't fit to be governor having collected N5 billion from the enemies of the state. "Benue is not for sale a d Alia should know this" the group said in a statement obtained by Nigerian Concord Newspaper this morning.
The group in the statement condemned Alia for being too desperate to be governor of Benue state at the peril of innocent people and farmers of the state.
The statement reads:
It is with a heavy heart that I write today on behalf of all lovers of democracy in Benue State. We are saddened and worried by the desperation displayed by the governorship candidate of All Progressives Congress, APC in the state, Hyacinth Alia, ahead of the 2023 elections.
You have all been around to witness the genocide that Fulani jihadists have waged against our state for nearly a decade leading to the killing of over three thousand people and the destruction of property worth billions of naira across the state. As we speak, nearly two million people have been displaced in Benue State with thousands of them living in internally displaced people's camps.
We received disturbing information that the APC governorship candidate in Benue State has collected a whopping sum of N5 billion from two northern Governors – Nasir El-Rufai of Kaduna and Aminu Masari of Katsina to fund his campaign and numerous court cases.
According to our informant, the deal was struck between Alia and his sponsors that if he wins the election, he will repeal the Open Grazing Prohibition and Ranches Establishment Law of Benue State and cede parts of the state to Fulani pastoralists to take over and settle in.
Recall that Governor El-Rufai and Katsina State Governor Bello Masari had earlier sent N500 million to Alia through Senator George Akume who refused to release the funds to the guber candidate.
We have no reason to doubt the source of this weighty information owing to the utterances, excitement and movements of Alia in recent weeks. He is apparently on a mission to sell Benue State to willing buyers, as long as he achieves his ambition of becoming Governor.
As youths of Benue State whose future is at stake, we vehemently condemn the conduct of the APC governorship candidate and wish to state the following:
Alia who has betrayed his people by collecting N5 billion from the three Fulani Governors must know that he has already lost the 2023 election. He will be roundly rejected.
We want him, his political party and their Fulani sponsors that BENUE IS NOT FOR SALE, and any attempt to mortgage the future of our children will be stiffly resisted!
If Alia has connections with people who have given him billions to contest election, why has he not bothered to get funds to support those who have been in IDP camps for over five years? This clearly shows where his loyalty lies. We will not trust such a man with power.
Enemies of Benue and their conspirators who are unfortunately from the state (such as Alia) must know that our land is our God-given heritage and it is off limits for political patronage.
We warn the land grabbers who are sponsoring their stooge to win the 2023 governorship election in Benue State and hand the land to their kinsmen from Niger, Chad, Mali and other parts of Africa that they will get the shock of their lives. Their evil plot has already failed!
We want the jihadists to remember that human life is sacred. The lives of Benue people matter more than politics and money. They should be prepared to kill all of us before they can take our land! We refuse to be beggars in the corridors of killers.
Lastly, we call on our people to put political affiliations and sentiments aside and reject the Fulani governorship candidate on the platform of APC in Benue State. Voting for such a candidate is tantamount to selling our future and land to our worst enemy!
Signed:
Comrade Ternenge Bendega, President of the Benue Coalition for Democracy