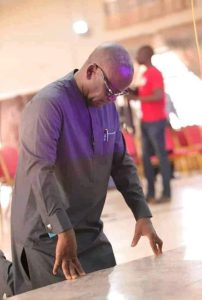 Nigerian Concord Newspaper
The leadership of All Progressives Congress, APC in Benue State has concluded plans to commence the persecution of the immediate past governor of Benue State, Samuel Ortom by using the Economic and Financial Crimes Commission, EFCC to harass and intimidate the former governor they consider very fearless.
Reliable sources within the APC fold revealed that the leader of the party in the state, Senator George Akume is on the wheel of plot against Ortom and has vowed to deal ruthlessly with him.
The plan is to use EFCC to arrest Chief Ortom as soon as he loses immunity today, 29th May, 2023 and take him to Abuja where he will be later transferred to Lagos and tortured severely.
The second part of the plan is to commence a media trial of Ortom by using columnists and reports to convict him on the pages of newspapers and in the electronic media without any court verdict.
"Yesterday the 28th of May, a team of EFCC officials was covertly deployed from Abuja to Benue State without the knowledge of the commission's Makurdi office who they feared might leak the plot to Samuel Ortom. The team was given the express mandate to invade and ransack Ortom's residence to pick him up" a dependable source told Nigerian Concord Newspaper.
Investigation showed that the EFCC has already framed phony charges that they will level against former governor Ortom if he is arrested. Akume is said to have used several surrogates to write petitions against Ortom to EFCC accusing him of misappropriation of public funds.
The minister is believed to still be feeling the pain of humiliation that the former governor gave him in 2019 when he lost his senate bid and has vowed never to forgive him.
Another reason Chief Samuel Ortom will face a serious persecution in the hands of the APC leader is his stand against the handling of insecurity and Fulani herders attacks across Nigeria under the administration of former president Muhammadu Buhari.
The move by EFCC to arrest Ortom according to findings will surely be viewed by observers as an unnecessary witch-hunt because he had already said openly that he is ready to honour any invitation from the commission because he has nothing to hide. Analysts will wonder if the anti-graft agency needed to engage in undercover operations to arrest a man who is willing to be their guest, if invited to answer questions.
This is not the first time that EFCC is harassing Chief Samuel Ortom. Five years ago, the commission repeatedly probed him and invited his key appointees for interrogation but came out with nothing meaningful or tangible to tell Nigerians.