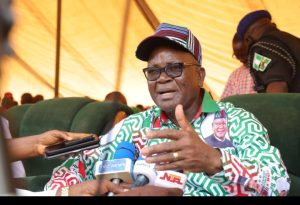 By Nigerian Concord Newspaper
Nigerian Concord Newspaper can authoritatively report plans by the incoming governor of Benue state, Reverend Father Hyacinth Alia and some top leaders of the All Progressive Congress in the state to use the EFCC, ICPC and other anti graft agencies to embarrass the Outgoing Governor Samuel Ortom.
According to findings, some faceless anti corruption crusaders and fake pressure groups have been given money to
file loads of petitions at the EFCC and other anti graft agencies including the IGP Special Investigation Panel against Governor Ortom and some members of his administration.
Some that are affected in the fictitious petitions that have already been lined up against the outgoing administration are the state commissioner for finance, David Olofu, Special Adviser to the governor on local government and chieftaincy affairs, Ken Achabo, commissioner for works, MD of BIPC, Mr. Alex Adum, chairman of the BIRS, Mimi Orubibi, Mr. Abraham Kwaghngu, the Permanent Secretary of Government House Administration, the Benue state Accountant General and some others.
However, this newspaper learnt that some of the affected members of the Ortom-led administration have started sending words to the leader of the APC in Benue state, Senator George Akume for a soft landing. "Some of them will join the APC within the next two weeks to avoid being persecuted by the emerging administration" a source said.
It was gathered that Governor Ortom is being falsely accused in some of the petitions which mentioned sales of government's properties and investments, bailout funds, contract funds and others fake allegations.
A source told this Newspaper that it's not that they have found Ortom guilty of any of the allegations made against him in the petitions but they just want to embarrass him for dumping the APC in 2018 despite a clear handwriting that he wasn't wanted to rule for a second term as governor.
It was also gathered that some Aso Villa cabals who are part of the plan to embarrass the governor are joining forces with his accusers because of his clear stand against insecurity and the poor handling of the issue by the outgoing administration of President Muhammadu Buhari.
Meanwhile, Governor Samuel Ortom has said that he is not afraid of the Economic and Financial Crimes Commission, EFCC, stressing that he is willing to submit himself to the anti-graft agency if called upon.
He also reiterated that he is open to scrutiny because he has not soiled his hands nor have anything to hide.
Speaking on Friday during the valedictory session for members of the State Executive Council and other top government appointees held at the old banquet hall of Government House, Makurdi, Governor Samuel Ortom advised his appointees to be prepared to face the anti-graft agency if invited for questioning assuring that he has no skeleton in his cupboard.
He said: "Anytime you are invited by EFCC, don't be afraid to go. As for me, I am not a coward to run away from EFCC, if they come for me I will follow them. I don't have any investment in Europe all I have are in this state.
"If anyone accuses me of committing any crime let the person come and show me how it happened because I have nothing to fear and I have no skeleton in my cupboard."