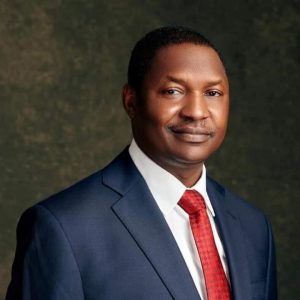 By Collins Pita, Abuja
The Attorney General of the Federation, Alhaji Abubakar Malami has expressed his anger over the way a staff of the federal ministry of Justice, Pius Akutah has been boasting round Benue state that he (Malami) had asked him to influence the case between Chief Michael Kaase Aondoakaa and the embattled governorship candidate of Benue APC, Reverend Father Alia.
Nigerian Concord Newspaper had yesterday reported how, Akutah, a level 13 officer in the federal ministry of Justice in Abuja went to Makurdi to say that Malami had sent him to meet with the presiding judge in the case so the ruling can be manipulated in favour of Alia whose candidacy was described as "Yahoo Yahoo" by the Benue APC governorship Appeal Panel.
Akutah who has been boasting that he is the one financing the minister of special duties and intergovernmental affairs, Senator George Akume also told some leaders of the party in Makurdi that he had been dropping hundreds of millions of Naira for Father Alia to pursue his election.
One of Malami's close aides who spoke with our reporter but didn't want to be mentioned said that the minister was very angry when he saw the report last night that Akutah has been dropping his name anyhow both in Abuja and Makurdi concerning the case between Aondoakaa and Alia.
According to the source, Malami outrightly turned down a proposal by Senator Akume to help Alia speak with the presiding judge in the case between him and Aondoakaa so the ruling can be manipulated.
"Oga said he wouldn't not talk to any judge to manipulate any ruling so that he won't be caught in the midst of any mess," What happened is that the special duties minister approached HAGF to help them talk to the judge but he declined immediately, that he Malami as chief law officer holds the intergrity of judicial officers in the highest esteem.
According to the source, Malami may sanction Akutah who may be asked to account for his flamboyant lifestyle when his salary is meagre as a level 13 officer in the Ministry.
The source pressed further that Akutah is alleged to have had a link with Abba Kyari being a staff of department that prosecutes Narcotic cases at the Federal Ministry of Justice.
Abba Kyari, a suspended super cop is being prosecuted for drug related offence by the NDLEA.
Malami's aide who didn't want to be mentioned pressed further that a petition is going to be sent to the NDLEA and the ICPC against Akutah so he can explain all the bribes he Akutah is alleged to br taking from drug Lords in Abuja,lagos and outside
The aide also said that Akutah should be made to explain where he got the money he used to build the mansion he is living as well as the exotic cars he is driving with police escorts.