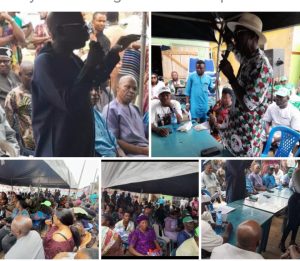 Nigerian Concord Newspaper
The leaders of Akure South local government chapter of the People's Democratic Party will on Tuesday, November 22, 2022 inaugurate the Local Government Campaign Committee for Atiku/Okowa.
This was made known today by one of the leaders of PDP in Akure South, Hon. Prince Tony Ala at the unveiling of Atiku/Okowa campaign office located at Oyemekun Road in Akure.
According to Tony Ala who is also the leader of Akure Group 2023/24, it is important for everyone to ensure the victory of Alhaji Abubakar Atiku at the 2023 presidential election so that Akure governorship in 2024 can be achieved.
He assured the mammoth crowd that gathered to witness the unveiling of the campaign office today that all members of the party shall also gather by February, 2023 to celebrate the victory of the party, noting that it's the day Atiku is declared as president that Barrister Eyitayo jegede's journey governorship begins.
Tony Ala berated those that are dividing the party in Akure South to two factions all in the name of inaugurating a campaign Committee which didn't receive the blessings of the PDP Presidential Campaign Council in Abuja.
According to him, the Akure South PDP Campaign Committee for Atiku/Okowa will be inaugurated on Tuesday by delegated members of the PDP Presidential Campaign Council in Abuja on order to show that the process is genuine
He noted that the large turn out of PDP members in Akure South at the unveiling of the campaign office despite the short notice that was involved was a sign that the party in the local government has identified with Atiku Abubakar.
"It's because we don't have a president that has been preventing Akure from having a governor but this time around, we will all work for the emergence of Atiku so that having a president will ensure Akure governorship in 2024.
"The yearnings of Akure is attached to the presidency and it's only a president that can ensure that we have a governor in 2024 so let's all go to our various units to ensure that Atiku wins there.
"We are all here just because of Atiku and Okowa so any other candidate that needs our backing should consult us. We have tried our best to ensure that we go into the election as a united home but some people are sitting down somewhere to creat a division among us. If they show that they need us, we will work with them but if they say that they don't need us, we will concentrate on our campaigns for Atiku and Okowa.
"They are working with Governor Wike to ensure that Atiku loses here in Akure but we won't accept it. We will ensure Atiku and all our candidates win in Akure but we want them to know that whoever that is working with any governor to fight Atiku is an enemy of Akure and the person shall be treated like an enemy.
"We heard that they want to attack our people and we are advising them now not to try it because we will also fight them as the law of the land permits" Tony Ala said.
Prince Tony Ala said that there are reports that a certain camp in Akure South PDP had decided that they won't campaign for Atiku and Okowa, stressing that they are free to campaign for their own candidates but they must not attack any member of the Atiku/Okowa campaign Committee that will be inaugurated on Tuesday.
In his own speech, Barrister Olumuyiwa Adu said it is his joy for Akure South PDP to come together and go into the 2023 general elections as a united house.
Adu said he donated his personal office for Atiku/Okowa campaigns because he had realized that it's only Abubakar Atiku that can take Nigeria out of hardship.
Adu berated the factional leaders who inaugurated a campaign Committee in Akure today, adding that the exercise wasn't in the best interest of the PDP in Akure South.
He lauded Barrister Eyitayo jegede's leadership style as well as his position for PDP in Akure South to go into the election without any division.
Furthermore, Adu berated some Akure leaders who have been reportedly boasting that Jegede won't be governor in 2024. He added that such people, going by their records, have never contributed anything to the growth of Akure.
In their separate remarks, Mr. Olosu, Hon. Oladunmoye, Taiwo Jombo, Jimoh Obabi and Apostle Safe Omobomi advised the factional leaders to stop dividing PDP in Akure South so that all the party's candidates can win their elections in 2023.
They praised Hon. Tony Ala for standing by his mission for Atiku to win and also for Akure to produce a governor for the state in 2024.
In his votes of thanks, Honourable Dele Faboro made it known that it will be the joy of everyone if the party goes into the election as a united house.
Faboro said that whoever that is planning to make Atiku lose Akure South during the election will not succeed, noting that the "authentic" list of members of the Atiku/Okowa campaign Committee in Akure South will be released to the public on Monday night.
He noted that everyone will be carried along in the campaigns that will start very soon.
Aare Abiodun Oluwarotimi
Director of Media and Publicity,
Akure Group 2023/24
Friday, November 18, 2022