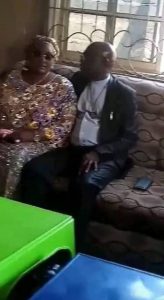 By Peter Ahenakaa, Makurdi
This is certainly not a good time for the embattled governorship candidate of the Benue state chapter of the All Progressive Congress, Reverend Hyacinth Alia as some ladies who claimed that he allegedly raped them while they were young in school have opened up their bitter experiences with the suspended Catholic priest.
The two victims who said that they are ready to take their cases to human rights organizations and the police also threatened to stage serious protests against the Reverend Father who sexually abused them when he was the chaplain of Queens of the Rosary Secondary School Gboko.
One of the ladies who simply gave her name as Jennifer said that it's a pay back time for the priest who took advantage of her at his quarters and still threatened to deal with her if she told anyone of the incident.
According to Jennifer, she is taking this decision at this time that she believes that she is independent enough to confront Father Alia in any competent court of law. She added that she will expose all the dirty things which the suspended Catholic priest did to her and some other female students then.
The rape victim accused Alia of forcing himself on her in a way that she started bleeding from her private part for many hours. She added that the priest threatened her that if she ever told anyone about what happened, she would no longer be allowed to take holy communion in the chapel. Jennifer said as a kid, the shame of narrating the ordeal to her friends and her parents made her remain with the bad feeling for years.
"Alia shouldn't be called a Reverend Father because he is not a man of honour. He made me hate myself and hate all men. As a child, when he raped me and blood started coming out, I thought it was menstruation which my mother told me to expect when the time was due. But it was not yet time for me to start seeing my period. I was still quite young. I cried the whole night. This is the same Alia that they want to bring now to be governor"Jennifer wondered in shock while narrating her ordeals in the hand of the APC candidate to one of our reporters.
The other victim of Alia's sex orgies who pleaded anonymity, said she was one of those the man selected to warm his bed on the eve of each of his "healing masses". According to her, Alia was not performing any miracles. They knew what he used to do to deceive the people that he was blessing water to heal them.
The two ladies named at least eight women who have children for Alia, stressing that a few of the children are now in university while some are in secondary school under the sponsorship of the "randy" priest.
"That man has more than 10 children with different women. I can name at least eight of them. Is that what he was ordained to do?", the second victim queried.
She continued, "all these women you see coming out to support him and saying yes father are doing so hoping that if he gets the seat, they will fight to become first lady. They are not being sincere. They know that Alia is not a good man."
The victims vowed to avenge the degrading treatment they got from Alia by mobilizing other women in the 23 local government areas of Benue state to stage a protest in Makurdi to reject the APC candidate. They said if given power, Alia will destroy the state and all the men who have beautiful young wives will be forced out of the state so that he can take charge of their wives.
"This is not the first time that allegation of sexual misconduct is leveled against Alia. Since he indicated interest to contest for governorship, more revelations have been coming from different quarters. This shows that there must be something fundamentally wrong with the behavior of the man Alia. The position of Governor is too critical to be left in the hands of a man who thinks only with his penis" Jennifer said.