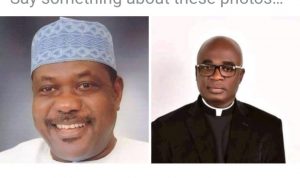 By Lydia Apine, Abuja
The Benue state chapter of the All Progressive Congress may be heading towards another round of electoral defeat in the hands of the state chapter of the People's Democratic Party over the internal crisis between the disputed governorship candidate, Reverend Father Hyacinth Alia and the minister for special duties and intergovernmental affairs, Senator George Akume.
Nigerian Concord Newspaper can authoritatively report how Father Hyacinth Alia went to meet the leaders of the Campaign Council for Tinubu/Shettima where he warned that 2023 election funds should not be released to Senator Akume.
This newspaper gathered that Alia was with Kassim Shettima, Governor Aminu Masari as well as the governor of Plateau state Simon Bako Lalong who is also the Director General of the Campaign Council at a meeting in Abuja where he accused Akume of diverting the N500 million released to him by Governors Aminu Masari and Nasir El-Rufai.
The N500 million was meant to pursue the loads of court cases instituted against the embattled governorship candidate by the aggrieved governorship aspirants of the Benue APC as well as the state chapter of the PDP.
Alia's emergence as the APC governorship candidate is being challenged in court by aggrieved aspirants who claimed that the process that produced him was fraudulent and illegal.
Alia at the meeting with Shettima, Masari and Lalong also accused Akume of not releasing all the funds which had been released to him for the purpose of the 2023 elections in Benue.
The candidate also accused the minister of causing the defeat which Barrister Emmanuel Jime suffered in the hands of Governor Samuel Ortom in 2019 as a result of the way he diverted fifty percent of the Campaign and election funds released to the party to his personal use.
According to Alia, if Tinubu must win in Benue state, Senator Akume must not be trusted with election funds in 2023.
Alia also begged that he should be made the Benue state Coordinator of Tinubu/Shettima campaigns council rather than allowing Akume to fix his stoogee who will help him to syphone the election funds.
Nigerian Concord Newspaper gathered that Lalong was very angry with Akume immediately he heard Alia's argument and explanation.
"Lalong decided at that sitting that Alia should be made the Benue state coordinator of the Campaign Council as a way to spite Akume over his imprudence" one of Alia's media handlers confided in our reporter.
Meanwhile, Senator George Akume has fought back, saying that Alia is playing smart to destroy him in the party.
A source close to the minister said that he is very angry that someone he forced on the APC as a governorship candidate is the one backstabbing him both in Benue and Abuja.
The source pressed further that the minister is already regretting his efforts to ensure "undeserved" victory for Alia.