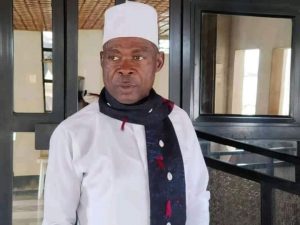 Nigerian Concord Newspaper
Facts have emerged on why a chieftain of the Benue state All Progressive Congress in the Southern part of the state, Alhaji Usman Abubakar also known as Young Alhaji, rejected his membership in the campaign Committee' of Reverend Father Hyacinth Alia.
Recall that Young Alhaji was recently nominated as a member in the campaign Committee of the Benue APC but he rejected the offer, saying that the candidacy of Alia is full of controversies.
Sources close to Young Alhaji told Nigerian Concord Newspaper that the billionaire businessman said he can't work with a Catholic priest who is canvassing for a Muslim-muslim agenda in the country.
Young Alhaji was particularly touched by the way Alia has been defending Fulani herdsmen because their association is bankrolling his election, Nigerian Concord Newspaper had gathered.
This newspaper gathered that Usman Abubakar made it clear that supporting Alia or being a member of his campaign Committee is amounted to backing Fulani people who have been killing innocent people of the state.
Usman Abubakar was quoted as saying that Alia should return all the billions of Naira he had collected from leaders of the Miyetti Allah organization who are sponsoring him if he doesn't want to bring God's wrath upon himself.
However in a letter he personally signed to reject the offer yesterday, Usman Abubakar said the leadership of the party under Senator George Akume is full of non challant attitudes which he said have ruined the party's chance in 2023.
He complained in the letter that it was the leadership of the party which appointed him as a member of the Campaign committee that sent thugs who burnt his house down few weeks ago.