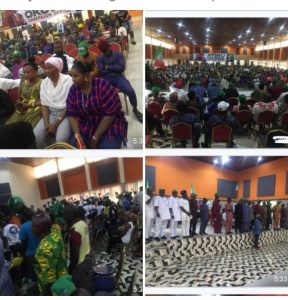 Nigerian Concord Newspaper
Akure Group 2023/24, the most influential support and pressure group in Akure South PDP today inaugurated a 460-member campaign Committee for Atiku/Okowa presidential election.
The campaign Committee which is led by Honourable Tony Ala also has Barrister Olumuyiwa Adu as the Chairman of the Finance and Logistics Committee. Also, Hon. Dele Faboro was appointed as the Chairman of the Planning and Strategy Committee while Comrade Olugbenga Jegede will serve as the Chairman on the committee on Artisans.
In his speech while addressing the event which was attended by well over 2,000 participants at Akure Town Hall, Hon. Tony Ala said that it is Only the presidential candidate of the People's Democratic Party, Alhaji Atiku Abubakar that can reform and rescue Nigeria from the boundage of the APC-led federal government.
Hon. Ala advised every member of the newly-inaugurated campaign Committee to work very hard to ensure that Atiku and all the candidates of the party win at the general elections.
According to him, securing governorship for Akure in 2025 is attached to Atiku's emergence as the next president of the country. He urged everyone to double efforts to ensure victory for the party.
Furthermore, Hon. Ala said that whoever that is against Atiku's presidency is an enemy of Akure as the town needs the presidency to ensure that Balogun Eyitayo Jegede SAN becomes the next governor of Ondo state.
He however recalled how Atiku as vice president between 1999 and 2007 discovered technocrats like Okonjo Iweala, Obi Ezekwesili, Soludo and a host of others who joined hands with Olusegun Obasanjo to rebuild Nigeria.
He also stated how Atiku as the chairman of the economic team ensured that all the foreign debts which the military incurred on Nigeria were terminated by foreign countries and international organizations.
He however congratulated everyone at the event, saying that the people that are genuinely working for PDP in Akure South were at the event.
He also berated the APC-led administrations both in Ondo state and Nigeria for saying that PDP didn't perform creditably well between 1999 and 2007.
He challenged the APC to mention their achievements since 2015 apart from hunger, suffering, bad governance and prolonged ASUU strike.
The event was graced by majority of the PDP leaders in Akure South, the Excos of Akure South PDP, members of the PDP PCC, various support groups for Atiku, Jegede and Adu.
Compiled By Aare Abiodun Oluwarotimi, Chairman, Media and Publicity Committee of Atiku/Okowa campaign Committee