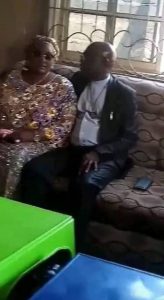 Nigerian Concord Newspaper
Few days ago, Nigerian Concord Newspaper released a photo on the social media. The photo was that of the disputed governorship candidate of Benue APC, Reverend Father Alia with a married woman (name withheld) in a hotel bar alone in Makurdi.
We decided to withhold the personal and family names of the woman just because we wanted to protect her home. It's unheard of for a married woman to be seen in a hotel alone with another married man even though Father Alia has denied it several times that he isn't married. For the public's sake, Alia is married to three women with several children scattered all over the country.
Meanwhile, we are ready to release the woman's name and that of her husband and family if we are pushed to do so. We are also going to release further controversial photos of her and the suspended Catholic Reverend Father in secret places.
Back to the story, Benue people should not allow Father Alia to deceive them with the fact that he is a Catholic priest and so that he cannot commit adultery. He has committed adultery with several married women.
Recall that a Catholic priest of a Louisiana church, Travis Clark was caught recently committing adultery on the church altar.
Worst of it, the Catholic priest was filmed having a threesome with two dominatrices on the altar of a Louisiana church.
If a white Catholic priest could commit such sacrilege, who is Father Alia to claim that he is innocent of all the crimes he has been accused of just because he is a Catholic priest. Who knows if adultery was part of why he was suspended by the Benue Catholic Church?
Can Alia explain what he was doing with a married woman in the night at a hotel bar as seen in the attached photo?
For you to know that Catholic priests are sexually corrupt, read the story of Travis Clark below:
Travis Clark, 39, appeared at the Covington courthouse on Monday in front of Judge Ellen Creel and pleaded guilty. Clark was sentenced to three years in prison, but Creel decided to suspend his time in jail and instead punished him with three years of probation and a $1,000 fine.
Clark was busted in an unholy trinity with Mindy Dixon and Melissa Cheng on September 30, 2020. The trio was caught on the alter inside St. Peter and Paul Catholic Church in Pearl River with a stage light, sex toys and a cell phone on the tripod.
'I plead guilty your honor,' Clark said on Monday.
Dixon and Cheng were also arrested in September 2020 and pleaded guilty to a misdemeanor in July. The two were sentenced to two years of probation.
It's unclear if the video was ever released, but Clark is set to appear back in court on January 20 to ensure the trio will never gain profit from the act, according to NOLA.com.