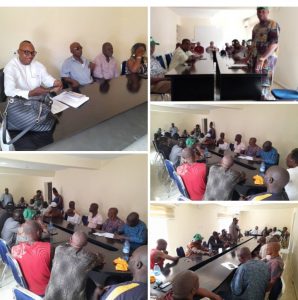 Nigerian Concord Newspaper
The NURTW Sub- committee under Atiku/Okowa campaign Committee powered by PDP Akure Group 2023/24 has thrown its weight behind the presidential candidate of the People's Democratic Party, Alhaji Abubakar Atiku, saying that the revival of the Union in Ondo state is tied to his presidency.
The Union members declared their supports today for Atiku during a meeting at the campaign office of Atiku/Okowa in Akure South local government
Addressing members of the NURTW committee under the Akure Group 2023/24 for Atiku/Okowa, the chairman, Apostle Safe Omobomi said that the drivers union has decided to identify with Atiku.
Omobomi lamented the suffering which drivers in Ondo state are through in the hands of the APC-led government in Ondo state. He queried why the government has failed in the area of high cost of buses and fuel prices.
He berated the APC government for ruining the good legacies which the PDP left behind in 2015.
He however lauded the group led by Hon. Tony Ala for its supports for Barrister Eyitayo Jegede SAN and Alhaji Abubakar Atiku.
Also speaking, Elder Akerele pleaded for unity and commitment from members of the sub committee, urging them to mobilize greatly for the coming of Alhaji Abubakar Atiku next Wednesday.
In his speech, Comrade Ojo Adewole assured that the union had mobilized thousands of genuine voters that are coming to welcome Atiku next week.
Ojo Adewole lamented poor roas and high cost of buses under the APC-led administrations both in Abuja and Ondo state.
Reacting, the chairman of the Sub-committee on Inter party and Intra party affairs, Apostle Kehinde Omoniyi lauded the Union for identifying with PDP, Eyitayo Jegede and Atiku Abubakar.
Omoniyi assured them that Atiku will return them back to their garages when he assumes duties as president next year.
Also speaking, the leader of Akure Group 2023/24, Hon. Tony Ala assured the Union that their own time will come just as he lauded them over Tuesday's inauguration of the campaign Committee at Akure Town Hall.
According to him, the efforts of the Union members who have identified with Atiku won't go in vain.
He assured that that they will be part of the emerging governments of Atiku Abubakar and Eyitayo Jegede SAN.