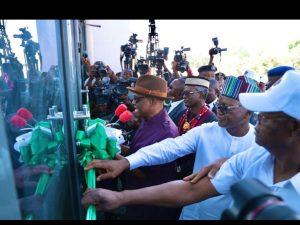 Nigerian Concord Newspaper
Governor Nyeson Wike of Rivers state yesterday lauded his Benue state counterpart, Chief Samuel Ortom over the fully completed N6.5bn Benue Geographic Information Service, BENGIS land digitization project in Makurdi the state capital.
Governor Wike before commissioning the project, noted that land administration has been a crucial issue in the country, but with what Governor Ortom has done, he will be able to limit or reduce the burden of problems of land administration and enhance the internally generated revenue, urging staff to protect the property for the people of the state to derive maximum benefit for the huge investment by the State Government.
According to Governor Wike, "I have been to Benue four times for commissioning of projects and today is a very important project. Land administration has been a big problem. It has not been easy and for your administration to carry out this project shows your commitment, your love and your interest for the development of Benue State.
"You can see a government that is willing to work, a government that has not more than five months to leave is still committed to completing the projects that are very impactful, the projects that will move the state forward. My dear brother, I am very much happy with you," Governor Wike stated."
Governor Wike continued, "I identify with you, and will continue to do till you leave office and represent your people in the Senate. I know when you go to the Senate your voice will be heard, your voice will not be cowed, nobody will tell you Ortom don't talk, you will talk on behalf of Benue people that I know very well..
"I am not afraid, I am not even contemplating if anybody is contesting with you, the person should have a second thought, because Ortom means well for the people of Benue State and there is no need in going to challenge him on going to the senate.
"I am happy and I want to say that all other projects you are doing, try as much as you can to your ability to complete them. I know how it is for scarce resources and the few resources you have to develop Benue State. You are not a friend of the Federal Government and so it has not been easy for you to access funds, I know that as a friend of yours," Wike added.
Speaking at the project commissioning by Wike, Governor Samuel Ortom gave six months ultimatum to residential and commercial property owners in Benue State  to properly certify them or face sanctions.
In his words, "I call on the good people of Benue State to embrace and key into this project, which does not belong to the State Government alone but is a project designed to positively impact on public interest. 
"I hereby declare that, all properties both residential and commercial in Makurdi, Gboko and Otukpo should be certificated within six months or face certain penalties."
According to Governor Ortom, "The inauguration of this edifice, a component of the Benue Geographic Information Service, BENGIS digitization project marks a milestone in the history of my administration, and could not have come at a better time given the increasing role of land assets in the socio-economic development of our people. 
"With the regular reports I am receiving since the introduction of Geographic Information System in land management, the numerous challenges that were associated with land administration in the state have been reduced to the barest minimum."
He pointed out that since the commencement of the BENGIS Project, the land digitization initiative has greatly improved urban planning, infrastructure development, environmental management and encouraged private investment.
The Governor  emphasised that, "With the commissioning of this historic project today, we have achieved the international best practice in land administration in the state. I am optimistic that this project will attract the World Bank's grant of USD$2.5million through the SFTAS programme to be applied for developmental projects in the state."
He said he was impressed that the decision of his administration to invest in this project was already yielding positive results with renewed interest of the people in land matters as well as accelerated processing of Certificates of Occupancy, stating that the process could now be accomplished within a few weeks.
Governor Ortom stated that BENGIS will operate throughout the entire state with a Service Centre in Makurdi, the State capital with additional service points in Gboko, Otukpo and Adikpo
He explained that the terms of the Contract with GIS Transport Ltd required the firm to design, build, operate and transfer management of the project to the State Government at the end of the agreed period, stating that "One aspect of this project that impresses me more is the fact that staff of this Ministry have been adequately trained on the use of the modern GIS/ICT driven land administration." 
While urging the Ministry of Lands, Survey and Solid Minerals to maintain the project, Governor Ortom said the Government will not hesitate to take punitive steps against any staff found to compromise any of the equipment bearing in mind that the State Government had invested huge resources in order to complete the project for the benefit of Benue people. 
Earlier in his welcome speech, Commissioner for Lands, Survey and Solid Minerals, Bernard Unenge explained that the BENGIS project was aimed at efficient land administration, pointing out that the Makurdi Service Centre of BENGIS, which is a major component in land digitization costs the state government 6.5 billion naira.
He said "ICT would be deployed through digital platforms and software for seamless management such as processing of CofOs, systematic and efficient land recertification, regularization and registration of titles, warehousing of land documents in soft and hard copies, automated and transparent system of revenue generation which eliminate leakages among other functions."
"In the course of this project, an additional component on field registration/ data enumeration of residential and commercial structures was introduced to attract a World Bank infrastructural development grant, through "States Fiscal Transparency, Accountability and Sustainability Programme (SFTAS).
According to the Commissioner, the sum of N545m was expended on the programme out of the total BENGIS project which lasted for 24 months.
He explained that project also created an employment opportunity for over 100 youths in the state as well as equipping them with modern skills in data analytics during this period.
Unenge disclosed that the exercise was fully achieved and the state has now qualified for the 2.5 million dollars grant according to latest world bank report.
The Project Consultant, General Manager, GIS Transport Ltd, Roland Klaus pointed out that the BENGIS Service Centre is the symbol for a modern, efficient, transparent, service culture in the state.
He added that "With the BENGIS Service Centre,  we establish a one-stop shop for all land matters with fast, reliable, transparent services for citizens, professionals, organizations and Government."