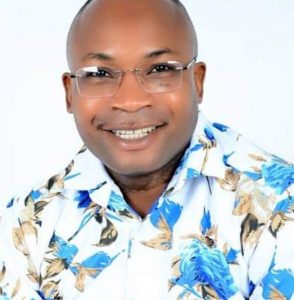 By Dare Fagun, Akure
The Akure South coordinator of Ward -2- Ward for Atiku, Apostle Kehinde Omoniyi has lauded the appointment of a former House of Assembly aspirant under the People's Democratic Party for Akure South constituency One, Aare Oluwarotimi Abiodun as the Director of Media and Publicity of PDP Group 2024.
PDP Group 2024 is the most powerful and influential pressure group within the People's Democratic Party that comprises eminent personalities of great political pedigrees in Akure and its environs.
In a press statement issued to journalists in Akure this evening, Apostle Kehinde Omoniyi said: "The appointment was a welcomed development. Aare Abiodun, a well known media practitioner is a round peg in a round hole with many years of local and international experience and accomplishments in the fields of journalism and hospitality"
"He's the publisher and Editor-in-Chief of Nigerian Concord Newspapers, Concord TV and also the Chief Executive Officer of Four seasons Hotels.
"There is no doubt that Aare Abiodun will use the experience he gathered as the first Akure-born journalist to cover the White House, World Bank and IMF all in Washington, DC for many years to inform the public of what the PDP Group 2024 stands for.
"Having worked in the United Nations in New York as the Foreign Correspondent of Leadership Newspapers for many years, Aare Abiodun will no doubt use that experience to reposition the media department of the group led by Hon. Tony Ala.
"From the prism of spiritualism, if Alhaji Atiku Abubakar Atiku emerges as President, he will bring back our national glory, restore the wasted years, secure and reunite Nigerians. Atiku is needed at this period of our chequered history of 62 years"
Omoniyi enjoined all Nigerians to support PDP across the nation for the manifestation of Atiku/Okowa ticket which respects diverse faiths and cultures of the Nation as an amalgamated and heterogeneous entity.
He also used the statement to eulogize Hon. Tony Ala- led group for its steadfastness and strong support for Barrister Eyitayo Jegede SAN. He also thanked Hon. Tony Ala and Hon. Dele Faboro for deeming it fit to appoint Aare Abiodun into the exalted office in the group.
Omoniyi congratulated once again, the worthy duo, who are also members of PDP Group 2024, Barrister Olumuyiwa Adu and Comrade Gbenga Jegede on their recent nominations into the PDP Presidential campaign Council (PCC).
Bothered by the lingering bickerings within the party, the scholar admonished all the warring factions to sheath swords and exhaust the conflict resolution mechanisms that will de- escalate the tensive hullabaloo.