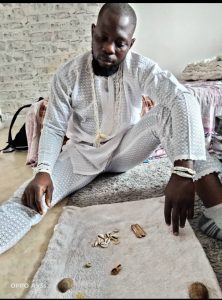 By Asewale Folorunsho, Osogbo
The family of Late Chief Olanrewaju Sanity in Okerewe area of Ile Ife, Osun State as well as the traditional leaders of the town have declared missing, the Baale-elect of Okerewe, Mr. Olanrewaju Sewa Lekan.
Speaking with newsmen in Ile Ife at the weekend, Alhaji Muniru Jelili who is the Otun balogun of Ipetumo, said that the Baale-elect has been missing since December 2021 few days after he was informed that the Oracle had chosen him as the next Baale of Okerewe kingdom of Ile Ife.
Flanked by Prince Lekan Olanrewaju's wife, Mrs Olaide Olanrewaju, the Otun Balogun of Ipetumo added to the reporters that it was in his house that the missing Baale-elect was informed to begin to prepare himself for the task ahead as well as his coronation as the Baale of Okerewe.
According to Muniru Jelili, when the late Baale of Okerewe, Late Chief Dara Kazeem died at the age of forty on November 26, 2021, a directive was passed unto the traditional rulers and community elders of Okerewe to consult the Oracle so it could choose a new Baale for the town.
He pressed further that it was after a serious and critical consultation that the missing Lekan Olanrewaju was chosen to replace the late Baale of Okerewe.
Also speaking with newsmen at the briefing, Mrs Olaide Olanrewaju raised an alarm, accusing the fraternity leaders of Okerewe of forcing her husband to be a monarch against his wish.
She pressed further that it was possible that they had used her husband for rituals as a result of his refusal to accept to be the Baale of the town.