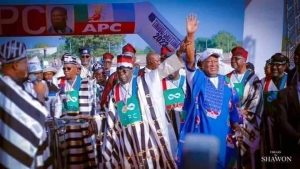 Nigerian Concord Newspaper
The presidential candidate of All Progressive Congress, Asiwaju Bola Ahmed Tinubu has cleared airs on why he didn't present a flag to the sacked former governorship candidate of the party in Benue state, Father Hyacinth Alia when he went to campaign in the state today.
He however said that Alia still remains his campaign coordinator in Benue state despite being sacked by an Appeal Court as the gubernatorial candidate of the APC in the state over the irregularities in the primary election that produced him.
The former Lagos state governor who reacted to queries by Benue some APC chieftains including Senator George Akume and Austin Agada on their way to the airport after the campaign at Aper Aku stadium in Makurdi said he didn't want to be lawless by presenting a flag to someone (Alia) whose election has been nullified by a "competent" court.
According to Tinubu who spoke with anger, the Benue state APC has no gubernatorial candidate at the moment, stressing that the already scheduled rerun will determine the authentic candidate for the election.
Speaking on the insinuation that he had thrown his weight behind Barnabas Gemade to win the scheduled rerun, the presidential candidate told the visibly troubled party chieftains in Makurdi that raising up his (Gemade) hand up at the rally didn't mean that he had endorsed him.
He however advised Akume and others who challenged him over his refusal to present a flag to Alia at the rally to immediately go and appeal to Professor Terhemba Shija to drop his quest to stop the scheduled rerun through a higher court so that the party can still participate in the 2023 gubernatorial election.
Meanwhile, reports reaching Nigerian Concord Newspaper have it that Timubu has settled for Gemade if the scheduled rerun holds next week.
It was gathered that Tinubu will use available mercenaries to ensure that the former Benue senator gets enough votes to be declared winner and flag bearer of APC.
Those who spoke over this development said that raising Gemade's hand at the rally was a symbolic message that can easily be decided by the wise.
It was gathered further that Gemade's candidacy was sold to Tinubu few days ago as the only way for the Benue APC to have peace which is much needed in the forthcoming general elections in Benue.