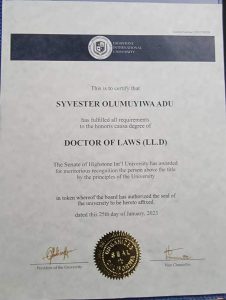 By Aare Abiodun Oluwarotimi, writing for Nigerian Concord Newspaper
A chieftain of the People's Democratic Party and former House of Representatives candidate for Akure Federal Constituency, Hon. Barrister Olumuyiwa Adu has been awarded a Honoraris Causa degree of Doctor of laws ( LL.D) by Highstone International University, California USA, after fulfilling all requirements.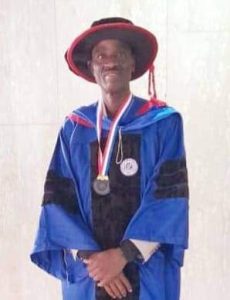 Barrister Olumuyiwa Adu PhD, a philanthropist is a member of the Presidential Campaign Council of the People's Democratic Party.
Barrister Adu was born into the family of the popular Late Adu Williams – the then Sao of Akure land, particularly to a father named Joseph O. Adu and the late mother who also was from Akure in Ondo State of Nigeria.
He began his primary education in CAC Primary School Oke-Isegun but ended it up in St. Michael Catholic Primary School, both in Akure town. He also attended Anglican Grammar School Ijare (AGSI) in Ifedore Local government Area of Ondo State.
Despite securing university admissions, he opted for a military career following his admission also into Nigerian Defence Academy from where he passed out in flying colours.
His quest for greater heights led him to cross over to the Oil & Gas Industry in 1995 following his appointment as Security Consultant to a consortium of Technip of France; Strampogheti of Italy; Kellog of US and JGC of Japan otherwise known and addressed as TSKJ – the Company that constructed Nigeria Liquified Natural Gas Plant in Bonny Island, Rivers State.
Following completion of the construction of the plant, he left to work in two accounting firms before returning to full legal practice. An alumni of University of Ibadan and a certified generic leader by Lagos Business School among others.
He is an accredited Management Trainer by the Centre for Management Development. He was the Managing Attorney of Legal Point Limited for many years before he returned to Nigeria LNG Limited in direct employee capacity. He started with the Company as Gas Transmission System Advisor. He had risen to the level of a Lead Advisor in the international oil company.
He is a member of many professional associations overseeing legal, accounting, security and management professions.
Of all the world countries, just very few he had not visited either for academic pursuit or in tourist capacity. He had not less than 40 academic awards and over 8 professional awards. He is married with children.