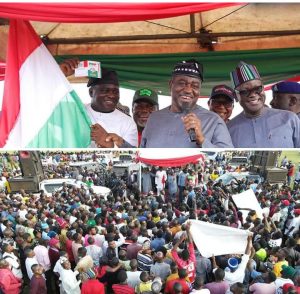 Nigerian Concord Newspaper
TONGOV, (TIIR AND IWAR WARDS) 2021.
1) Completion of Electricity Project from Tsehe – Ngobua to Atogebenda, Tiir ward, TONGOV – Contact person is Hon. Abancha
2) A Block of 3 Classrooms, Hand pump borehole and VIP Toilet constructed at Mgor, Tiir, Tongov, contact person is Hon. Job Tsea
3) Primary Health Centre, Amaafu, IWAR ward Rehabilitated, contact person is Hon. Alfred Atera
4) Motorized Borehole with 10, 000 Litres overhead water tank Constructed at Daudu, Tiir ward, Tongov, contact person is Hon. Mrs Mnena Amena
5) Solar Street light installed at various locations: 1. Gbor
2. Amaafu Market Square = 2
3. Tyogbenda Udende = 2
4. Pawa Village = 2
5. Tse Chenkon =
6. Ormenger Market = 1
7. Lashi Market = 1
Contact person is Hon. Alfred Atera and Job Tsea
2022 PROJECTS IN TONGOV TO BE EXECUTED IN OCTOBER, 2022
1) Extension of Electricity from Kera to Gbor, Tiir ward, Contact persons are Engr John Gbede and Hon. Job Tsea
2) Extension of Electricity from Amaafu to Ormenger and Tse – Chonkon, IWAR Ward, Tongov, the contact person is Hon. Alfred Area
SENATOR GABRIEL SUSWAM's PROJECT IN IKURAV – TIEV I I and II WARDS IN K/ALA LGA
1. Construction and furnishing of a block of 3 classrooms at Lunjo, Cove, Ikurav – Tiev, K/Ala LGA, the contact person is Dr. Kwanga
2). Installation of Solar Street Lights at Ikowe, – 2020, the contact person is Dr. Kwanga
3) Construction of motorized borehole and 10,000 liters overhead water tank at Joo – Mbatyough, Ikurav Tiev 2, the Contact person is Chief Simon Tatin
4. Installation of Solar Street light at different locations in Joo – Mbatyough, Ikurav Tiev 2. – 2021, the contact person is Chief Simon Tatin
5) Installation of 10 no. Solar street light poles at Takor, Ikurav – Tiev 2 – 2021
2022 PROJECTS FOR IKURAV – TIEV I and II Wards
1) Extension of Electricity from Tyowanye to Takor through Joo Mbatyough – Engineering survey was done, execution to commence in October 2022, contact person is Chief Simon Tatin
2). Construction and furnishing of a Block of 3 Classrooms at LGEA Primary School, Abo Mbasar, Ikurav – Tiev 2 – Completed. Contact persons are Elder James Ikyerga and Hon. Mrs. Akile.
3) Construction of a Block of 3 classrooms with Furnishing at LGEA Primary School Agber, Mbasar, Ikurav-Tiev II, the contact person is Chief Simon Tatin. Work to commence in October 2022.
4) Construction of Motorized Borehole and 10, 000 liters overhead water tank at Usambe Market Square, Usambe, Ikurav-Tiev I ward. The survey is already done, and work is to commence in September 2022, the contact person is Hon. Jacob Orban.
Source: Senator Gabriel Suswam's media office